If you want to start your investment plan in a new field to get a better return, the glamping business is a good choice.
In the past few years, glamping has developed into a new way of outdoor holiday travel. This also provides a new business opportunity for people. The glamping vacation life, which is different from traditional camping, is forming a new market in the outdoor camping and tourism industries. Take a look at those famous travel platforms, this leisure holiday life is so attractive.
But before your glamping business start-up, you must first understand this industry.
What is A Glamping Business?
To put it simply, you can build a small or large glamping site, and provide more comfortable luxury tented accommodation, that is different from traditional camping and just like living in the hotel, for those who love outdoor travel so that visitors have a unique experience to achieve a better economic profit for you. Or you can use it for your own and rent it to people in need during idle time to get a certain rent.
Glamping Business Models
In essence, the business model of luxury camping is divided into franchise, company, and private ownership. You can choose the business model that suits you according to your actual situation. For a specific introduction to business models, please refer to OpenAir's introduction to business models.
If you have the glamping business idea for one resort, and you are living in Malaysia, then I suggest you find out about the Borneo Kiim Resort in Sabah, Malaysia. It is a glamping resort located in Sabah, Malaysia. Borneo Kiim is located on the hills of the mysterious highland village of Tambunan, only a 90-minute drive from the spectacular Crocker Range. The terrain is undulating, the forest is dense, the scenery is unique and charming. The stable sea breeze also makes this a paradise for those who love gliding. Based on the beautiful local natural scenery, those investors have established a glamping site here, which has become one of the holidaymakers' outdoor travel options.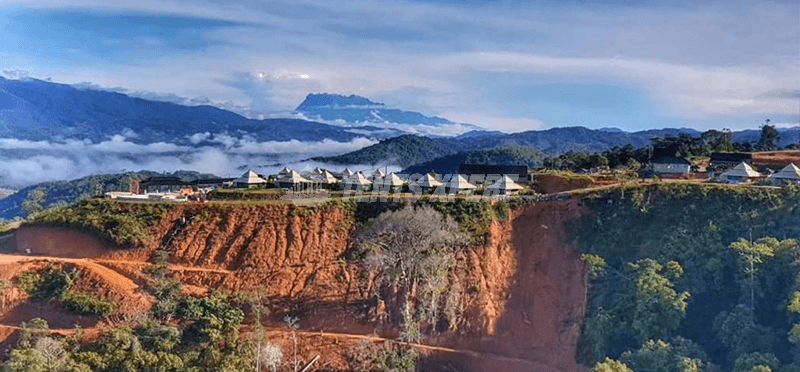 Glamping Business Profits
The primary concern of any investor when investing in a project is how much money I can make here, and how long it will take to earn the money.
When you start your glamping business, you must make a clear and executable plan, which is very important for you to achieve business profitability. It can help you sort out your business and find some problems. Here we take a small glamping site as an example.
What are the main outgoings of glamping business?
In fairness, glamping businesses generally don't spend too much money. The main cost of starting a glamping site is to buy glamping tents and land.
The cost of buying land depends on the location of the glamping site. If you have your own venue, that's best. If not, please purchase those remote and scenic places, where the cost is relatively lower.
The cost of the glamping tent depends on the tent style of purchase you have. Cheap geodesic dome tents also cost at least about the USD $ 1,000, and more luxurious tents cost tens of thousands of dollars.
A lot of these can be very dependent on the level of glamping structures you have. For example, electricity will cost almost nothing in a glamping tent with no heating but it can get expensive if it is with electric heating. The monthly ongoing costs that a glamping site will incur are cleaning costs, electricity, water, internet, marketing, and general maintenance.
If your capital budget is limited, so you have to strike a balance between buying land and tents.
In addition, property taxes, maintenance costs, labor costs, water and electricity costs, and some other consumption costs are all you have to consider.
What is the income of a glamping site?
Similar to the outgoings, the income of a glamping business varies greatly from site to site. Of course, income is the biggest determinant of how much money a glamping business makes. In the down season, glamping tents generally command very little money. This is more than made up for during the high season, however. In addition to this, 'high seasons' are wider than ever just now, stretching from April until October! Generally, you can expect a glamping structure of a level similar to North Coast 500 Pods to take in around £750 per glamping structure per month in the low season. In the high season, however, each pod could be expected to command £4000. This is in stark contrast to the £250-500 per month they take to run!
How much profit will you get from a glamping site?
Anyone who knows about business knows cash flow is the most important thing! A glamping site can cost from £250-500 per month to run and takes in £750-4000 per month depending on seasonality. This leaves us with a monthly cash flow (when at the highest expense) of £3500 per pod per month during the 7 months of high season. If a site had 6 glamping structures, for example, it would cashflow around £21,000 per month in these high months. That is £147,000 in profit for half the year alone, meaning the site could close the rest of the year and still make fantastic money year-round.
Start Your Glamping Business
Now that you have learned that the glamping business is a new niche, and how much benefit it can bring you, you probably have an idea. If you are interested in it, then you need to start preparing something.
Glamping Business Checklist
Land and land permits. Every place has different policies regarding the lease and sale of land. Before starting your glamping business plan, please contact your local land planning department to obtain relevant information.
There are various types and styles of tents. Choose the right glamping tent for your glamping site. Under your budget, find the best luxury tent to support your business.
Furniture. Including single or double beds, mattresses, chairs, tables, wardrobes, sofas, rugs, and some others to meet the needs of your customers.
Electrical appliances. Air condition, water heater, oven, microwave, etc.
Kitchenware.
Sewage treatment system.
Other accessories and facilities..
There have been many glamping business examples that such a combination of camping, comfortable accommodation, and outdoor travel is profitable. There are many benefits to starting a glamping business, but for anyone who wants to invest in this field, there are many things to consider, not just the above. In any case, believe your own vision.