In the past vacation, I spent two weeks in the wild in a canvas tent. In my glamping structure, there is a four-poster bed, "upholstered" chairs, and a chandelier. Although there is no plumbing or electricity, we still have lights, sinks with running water, lights, and kitchens. Although I am not staying in a five-star glamping resort, my glamping experience also made me feel comfortable, happy, and unforgettable.
It's not that you can call it glamping when you have a special tent. It also involves creating a luxurious environment as much as possible.
Therefore, you want to make your glamping experience richer, comfortable, and warm. Here are some glamping ideas for you.
Furniture
Filling up space in the tent with furniture is the best way to improve living comfort. Starting with tables and benches, it extends to beds, chairs, kitchen counters, wardrobes, etc. And that furniture is movable and easy to set up.
Use square-frame glamping chairs instead of bag chairs because they look very convincing when finished. Of course, technically speaking, this is not a real upholstery, but it is covered with beautifully upholstered fabric, which completely obscures the fact that it is a simple, foldable camping chair. Faux sheepskin is draped on the back to create a sense of comfort and appearance.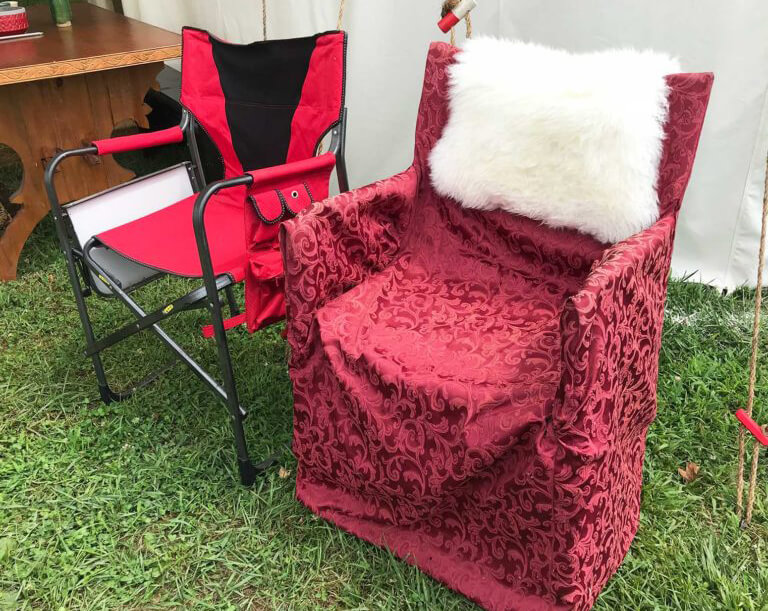 Glamping Chandelier - Beautiful lighting
Getting the right light in the tent can change the atmosphere. We call it "Light the Girl's Room": the cold main lamp goes out and the warm table lamp comes on. If your glamping ground has power, then girls will light hell from your tent! I'm talking about fairy lights, rope lighting, and desk lamps. If there is no power source, please choose rechargeable lanterns and lights.
A chandelier is one of my favorite glamping accessories because it's just so decadent yet simple. All you need is a patio chandelier, a pulley, some rope, and some LED tea light candles. The trick to really amazing glamping chandelier is to use LED tea lights with a remote control. Then you can just turn them on and off whenever you please. And it's just such a beautiful touch. Here it is lit up at night.
In the tent, I hung a string of frosted light bulbs from the roof of tent. When we lay in the tent, the earth lamp added such a soft light!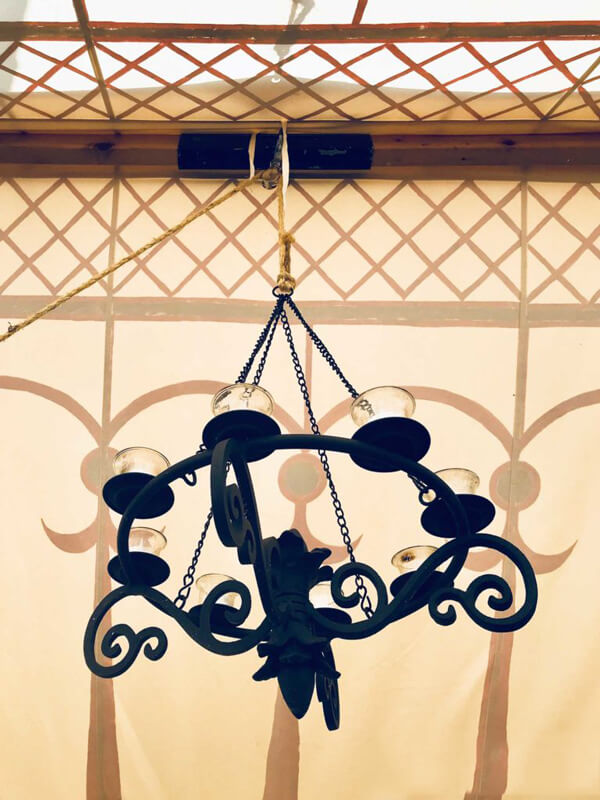 Sleeping Bed
Make your bed, the cosy way
Turning fitful, sleepless nights at camp into deep and cosy snoozes is a real luxury that you can't put a price on. Make your bed as comfortable as possible and you've just about nailed glamping right there!
Air mattress
Your mattress is the key to a good sleep. If you have an air mattress then make it even cosier by adding a mattress topper or duvet on top of it. And if it's cold then put a blanket underneath the mattress for a bit of extra insulation.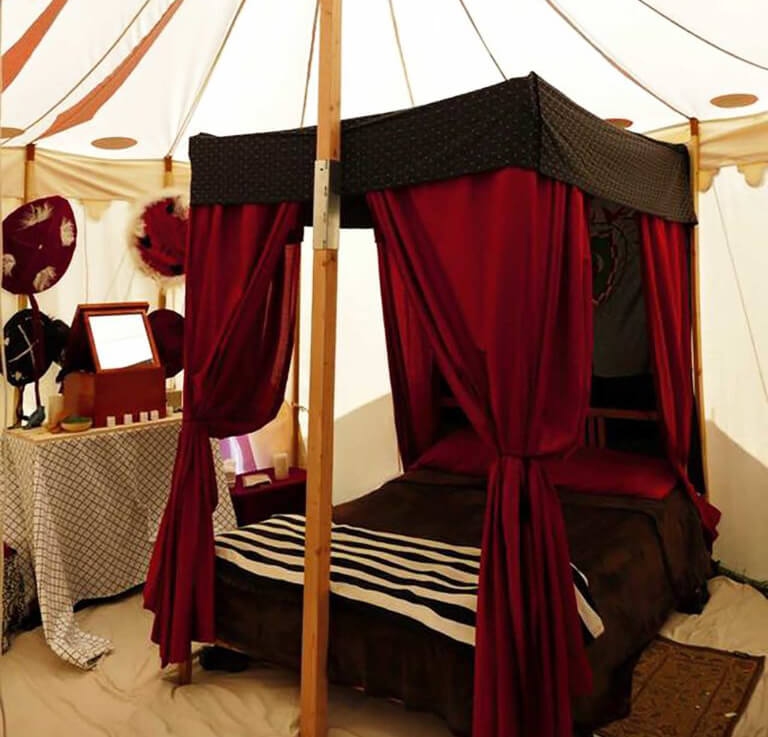 Cushions
Cushions are a totally aesthetic accessory, but a sure-fire way to make your glamping bed feel as luxurious as possible. Go on. Bring a couple of cushions from home and enjoy their perfectly puffy uselessness!
Glamping Storage Basket
In order to store items in the luxury tent pavilion, I use various lightweight storage solutions that can be broken down. I have a wooden shelf from IKEA, a hanging canvas shoe storage box and a plastic basin covered with cloth. I even made a wooden wardrobe to hang clothes!
Although very practical, a plastic box with camping equipment does not help you turn your tent into a camping paradise you might wish to have. However, the large picnic basket hanging around the house can be doubled as a storage space for cookware in the camp. You can also buy this item cheaply in thrift stores. Or, spread patterned wrapping paper on the plastic box. Do the best DIY by yourself!