Maybe you envy the campers, they can get close to nature, but you are also struggling to camp without bathroom, and can't stand the smell in the sleeping bag. Maybe you have also experienced those glamping tent hotels and felt the pleasure of glamping, but the accommodation price is too expensive and you want to have your own glamping experience.
So, start your personal glamping now. It won't be hard and won't cost you too much money.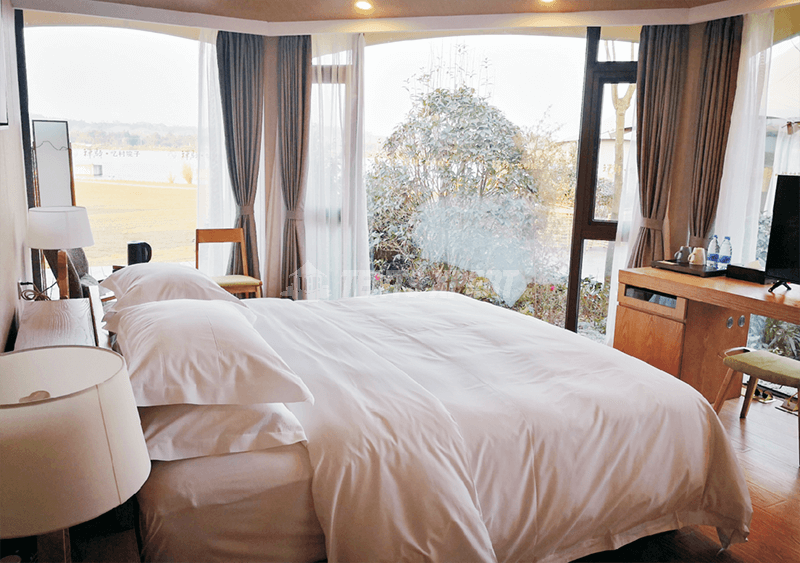 Maybe you've started imaging your glamping. You will wake up in the warm sunshine outdoors and listen to the sound of birds or animals. Drink a cup of freshly ground coffee from the coffee maker, and eat a sandwich and two omelets. Then go for a walk in the beautiful jungle. When the night comes, you snuggle up to your lover and feel the romance of the stars in the sky through the transparent roof of the luxury tent.
Wait a minute, before these beautiful scenes come into reality, you are better to learn about the preparations for glamping.
Luxury glamping tents do not require building permits.
Generally speaking, glamping tents are temporary buildings and you can move them. Building a luxury tent do not require building permits. But in order to avoid unnecessary trouble, you'd better learn about your country's advice on land permits in advance. Recommendations for land permits vary from country to country, and this should be prioritized before the glamping plan. And how long it takes to get a land permit.
Where is your campsite and which glamping tent is suitable
First, you have to think about where you want to glamping. Mountains, forests, sunshine beaches or grasslands. Different luxury tents correspond to different natural environments. Of course, this is not absolute, it depends on which style of glamping tent you like. However, what you need is a durable, easy-to-use and easy-to-maintain luxury tent. And this kind of luxury tent can make you feel comfortable in living, let you feel the coolness of the wind in summer or open the stove in the tent in autumn.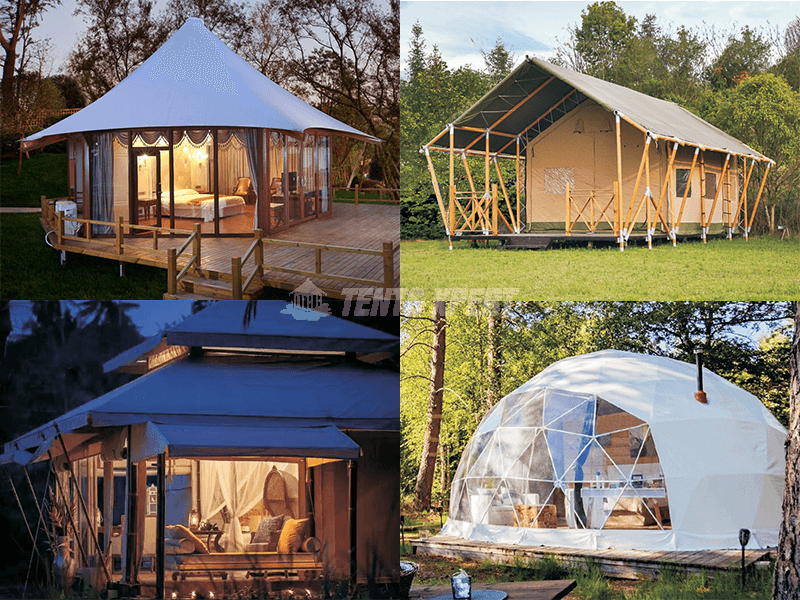 What functions and supporting equipment do glamping tents need?
If you want a very comfortable tent accommodation experience, then the glamping tent needs to be waterproof, windproof, mildew-proof, mosquito-proof, heat-resistant and cold-resistant, and some tent accessories and support facilities are also your consideration.
The functionality of luxury tents
In general, outdoor natural environmental factors are important factors affecting the tent accommodation experience. How to reduce or avoid these environmental factors for a comfortable accommodation experience in glamping is a criterion for your choice of glamping tent.
Interior decoration accessories and support facilities in luxury tents
Furniture, rugs, artwork, empty withers, fireplaces, etc. You can decorate the space inside the luxury tent according to your favorite house style.
Kitchenware. If you want to cook while glamping or have an outdoor barbecue, portable kitchenware or cooking equipment is essential.
Lighting device. Electric light or camping light.
Power Equipment. Whether it's an air conditioner, a water heater, or a table lamp in the tent, electricity is needed. Equip your glamping tent with solar panels with enough power to power these appliances.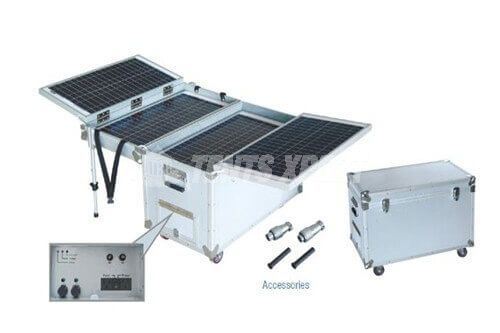 Building a glamping tent
Generally speaking, the construction of a luxury tent is done by the tent manufacturer, but you can also set up the tent by yourself. If you need help, we can send you the assembly video. A small glamping tent with a length of 3 meters or 4 meters can be set up by a few people in a few hours. But for geodesic dome tents with a longer diameter or large luxury tents, it is best to ask your local construction team to help you set up.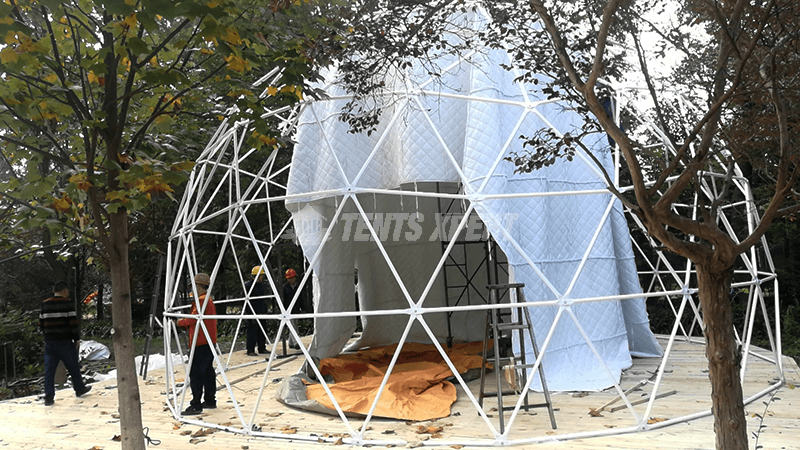 Cost of the glamping
The average price of a luxury tent is usually between $ 1000 and $ 8000, depending on the style and size of the tent. The price of the geodesic dome tent is relatively low. A geodome glamping tent with a diameter of 6 meters is generally only $ 1000, with some supporting equipment, luxury glamping only costs about $ 2000 in total. Of course, if you want a more comfortable experience, it may cost more.
Tent utilization is maximized
If you don't want to leave the luxury tent idle after you finish glamping, you can share the tent with others. Or you can rent it out to those who want to glamping and charge them some fees. Of course, you can also sell them when you for some reason.
Learn how to maintain your luxury tent
Glamping tents made of aluminum alloy frame can be used for up to 10 years or even longer. But this also requires your usual maintenance. Any building needs to be maintained and repaired from time to time. Similarly, canvas luxury tents need to be maintained and maintained. In your favor, tents are usually less expensive to maintain than traditional brick-and-concrete buildings. This is due to the waterproof, mildew and wind resistance of the luxury tent itself.
Maybe the text looks a lot, but don't hesitate. When you start preparing glamping for the first step, you will get closer and closer to your private luxury camping. So move on to achieve it now.