Why have people been eager for glamping in the past few years?
Find freedom and self in the natural space provided by glamping.
People like city life because of convenience and comfort, but also hate the limitation of self-space in urban life. More and more people want to return to nature, not only for relaxation but also for the unfettered freedom of getting along with nature.
Glamping is a way of vacation that closely links the comfort of urban living life with nature. It has healthy and comfortable elements and can also allow people to immerse themselves in nature.
Is glamping really more advanced than conventional camping?
Yes. This is not only reflected in the difference in the comfort of the two living environments, but also in the tent.
Appearance is the most intuitive visual input. Although we named the glamping tent as a tent, in fact, it is more like a tent house. The appearance of a tent house like this is more beautiful and full of modern design. It not only attracts people's attention perfectly but also blends well into nature.
Another point is functionality, that is, the protection to people of the glamping tent. Those tents are more waterproof, fireproof, windproof, and compressive, and are better than traditional tents in terms of thermal insulation.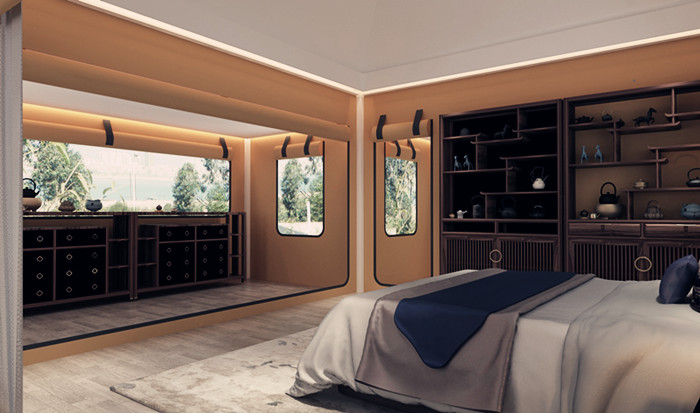 How do glamping tents report luxury and comfort?
Well-designed appearance, best quality materials, the large living space, and consider people's living feeling.
Tent Appearance
In terms of the appearance of the tent, lines, shapes, colors, and the integration of nature, these are the keys to whether a luxury tent can capture people's attention. Smooth curves, comfortable corners, special shapes, and light colors are all places where people's favor is easy to get.
Best Tent Materials
The frame of the tent is made of steel, strong and durable, and performs well in strong winds and heavy snow. The load-bearing of the internal roof also requires heavy fittings. The covering fabric has multiple layers to ensure heat preservation and waterproofing, and they need to be made of flame retardant. In addition, the tent can also be equipped with a rainwater collection system.
Large Interior Space
The larger the internal space of the tent, it means that more furniture and objects can be placed, more people can be accommodated, and more space for activities. A 78 square meter tent can have two bedrooms and a bathroom, can accommodate 4 people, and even have a kitchen.
Living Feeling
The windows of the tent are equipped with screens, roll-up canvas flips, and transparent PVC coverings to ensure privacy and safety, and allow natural light to enter, well ventilated and can prevent mosquitoes.