May. 31, 2019
The glamping tent hotel is actually a modular house tent, and its construction is far quicker and easier than that of a permanent building. Although a large number of reinforced concrete structures used in modern buildings are firm and diversified, they lack the atmosphere of communicating with the starry sky and nature. Therefore, the tent hotels bring a kind of enjoyment to the people living in a busy urban life.
In January, we have shared our photos of the peach blossom island, TENTSXPERT didn't set up glamping tents, and everything is silent in the cold winter wind. And now when we come back to this place again in March, everything changed, trees are budding. Flowers are blossoming.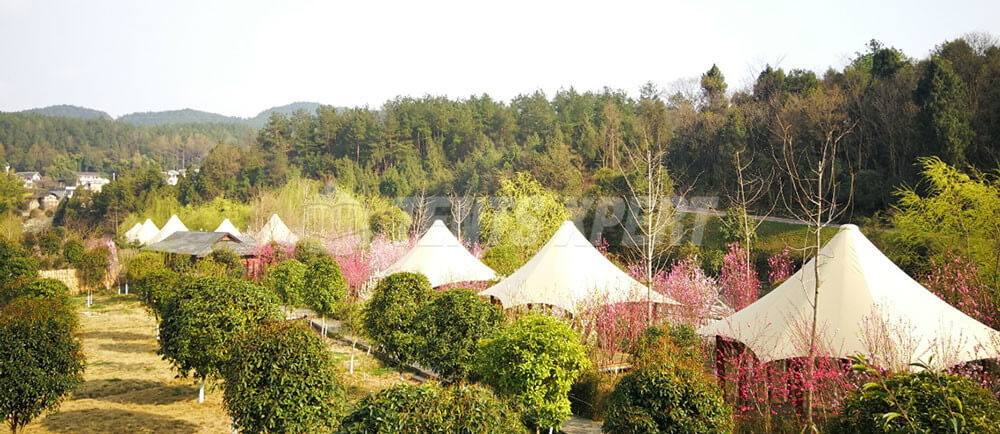 Especially peach blossom, you can see the pink blooms everywhere. And now the project of the luxury tented camp is contracted and Tents Xpert is starting framework and canopy of the luxury tent houses. The interior is still left empty. Hopefully, we can see the completed project in May.
TENTSXPERT luxury tent house framework is a high-strength steel structure manufactured by the international industry standard DIN. It has a class 10 wind resistance, and the surface is hot-dip galvanized, with a thickness of ≥50um. Each part is connected with high-strength bolt.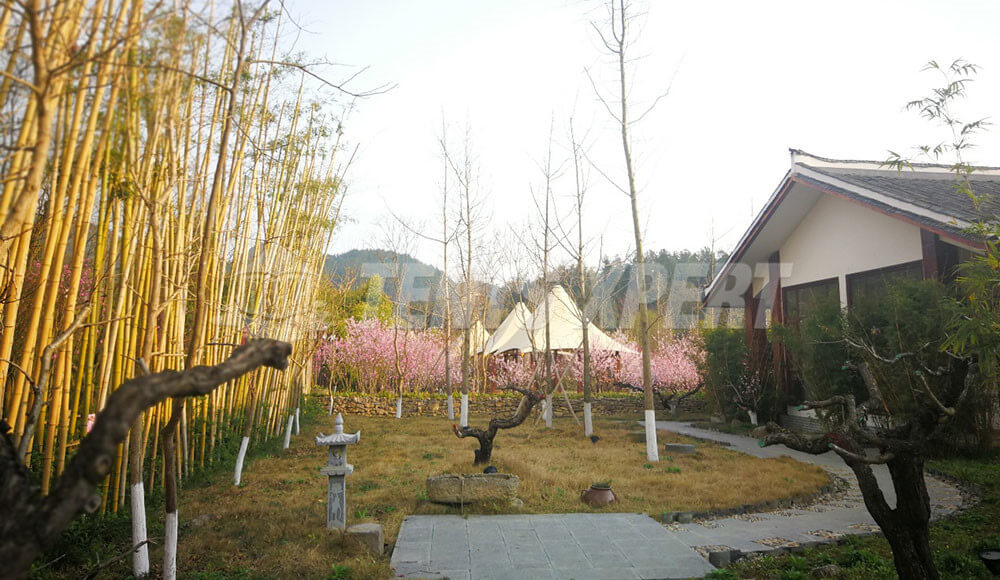 The outside tarpaulin adopts khaki film material (a variety of colors are optional) After pre-stretching, the surface of the tarpaulin is tightly connected with the structure, the surface is PVDF coated, with UV resistance, tensile strength 5000N, BI fire rating, The inside tarpaulin is designed to have thermal insulation.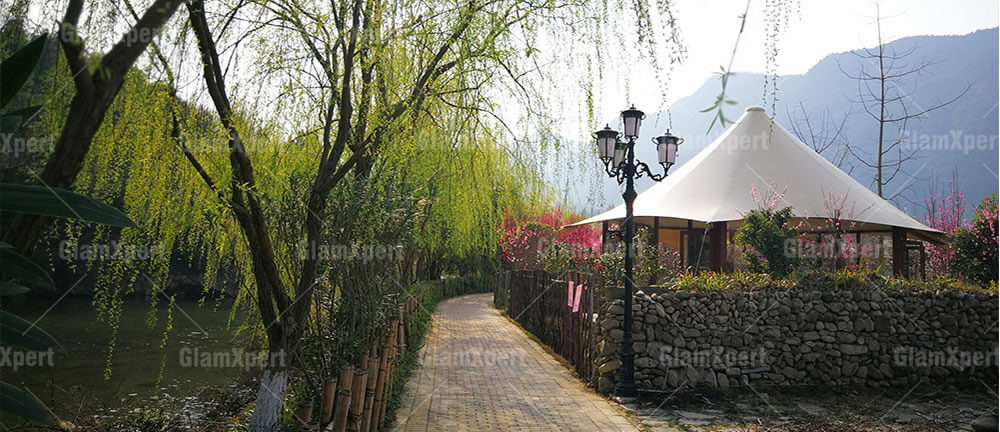 The interior of Tents Xpert's glamping tent is spacious and comfortable. It has all the facilities built-in.
Customized furniture style, bathroom, air conditioning, the multi-peak design is especially suitable for family Rooms, senior suites, to create a comfortable outdoor space, which is warm in winter and cool in summer. We redefine wild camping.