If you want to set up a glamping tent on the mountainside as your resort, the first thing you have to do is to find flat open ground. But it may not be so easy. You are lucky enough to find a field to build a tent, and next, you also have to consider whether the rain will flow back into the tent when it rains. If you have encountered this madness in the process of setting up a glamping tent, you really need a platform to help you solve the problem.
Build your tent anywhere with a platform
With a platform where you can place the glamping tent, you can concentrate on finding the perfect viewing point on the mountain without having to think too much about whether such a perfect viewing point can be used to build a tent. You'll also save time finding the right place to set up the tent, and better yet, you'll have more time to decorate your tent and stay in it faster. Of course, whether it is grass, flat, or beach, mountain. The platform will make it easy for you to find a place to build a glamping tent.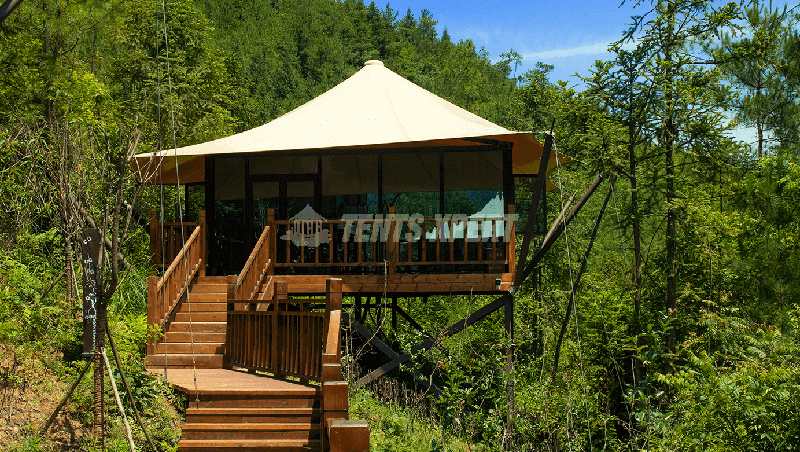 The platform effectively keep your tent dry
If you want to build a tent in a humid and rainy place, the problem of moisture protection inside the tent is something you need to focus on. If your tent is built directly on the ground, the moisture from the soil will slowly erode into your tent, making your furniture moldy. You have to eat the food exposed to the air as fast as possible. All of this affects your mood on a camping holiday. The platform can help you solve these problems. Construct a platform 20 to 30 cm above the ground, which will effectively prevent moisture from the soil from entering your tent. Non-absorbent water wood materials will permanently keep your tent dry.
Use the platform to protect the natural environment

A ground separation of 20 to 30 cm will allow the vegetation on the ground to absorb the air well. The use of the platform can effectively reduce the impact of the tent on the surrounding environment without excessively destroying the natural environment. If you are an environmentalist, then the platform is the best choice for building a tent.
The glamping tent can be fixed more firmly on the platform.

Compared to the soil, the friction between the rivet embedded in the wooden platform and the wood is much greater than the friction with the ground.
Setting up a glamping tent on the platform can help you solve many problems. You don't have to think too much about the location of the tent, don't worry about the luxury tent being damaged by rain and the impact on the natural environment. So, buy the glamping tent you want with confidence and start your vacation plan.