What is a tent platform?
Tent platforms are generally used when living in a place permanently, usually found in glamping resorts. Those glamping tents are all set up on platforms. One platform tent like this is often called a deck tent or off-ground tent.
A tent platform is a floor used to place a tent. Typically, it's a wooden deck that provides people with a clean, even place to live. It also prevents someone from trampling the surrounding vegetation.
The tent platform is far away from the ground, which provides a better camping experience, and does not have to worry about rainwater entering the tent on rainy days, keeping the room dry; it can also avoid the invasion of certain small animals. In addition, the platform for the tent provides a flat, solid surface on which to walk. In the case of permanent residence, the tent platform also has ample space for laying water and toilet pipes.
Why tent need a platform?
Building a platform for your tent is what keeps your tent in good shape for a long time. This type of insurance does cost extra, but it's worth the extra time and investment. Placing your tent on a wooden platform makes it unique, not only will it make the overall look of your tent better, but a well-built platform will protect your tent from water and other damage, turning your tent into a practical, lasting shelter.
The tent platform keeps your tent away from wet ground, speeds up the drying process of the canvas, and stops mold from growing in hard-to-reach places. The raised platform also helps promote air circulation around the lower walls and floor to help dry damp canvas.
Tent platforms allow for extended camping and long-term living inside. By adding a custom-raised tent platform, you can further enhance the aesthetics, comfort, and functionality of your tent.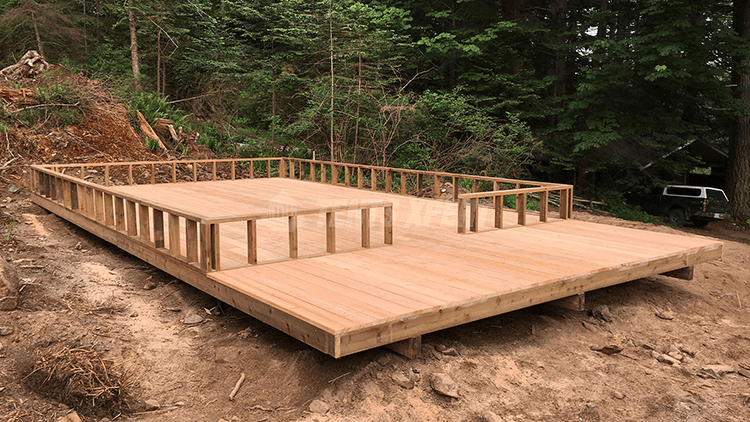 How to Build a Raised Tent Platform?
Platforms can come in many shapes and sizes, and no one is the best. Your design decisions will be based on the functionality and form you need. Decide how big you want your platform to be. You should be able to walk around the tent with extra deck space in front of the door. Your tent platform can be almost any size.
Find a flat surface and mark the platform area. Choose a level point with good drainage and a good view. If your site is not level, you may also need to add foundations to the platform and maybe even add stairs to get to the front door.
Take the 12x16ft platform as an example, it can accommodate a 10x12ft camping tent, with an additional 12x4ft front porch. Lumber and hardware will cost $450 to $500.
Items you will need:
Six 4- by 8-ft. sheets of ACX ½-in. plywood
Ten 12-ft. 2x4s (for joists)
Four 8-ft. 2x4s (for sides)
Four 8-ft. 2x4s (for legs)
Twelve 6-in. Stanley Lifespan strap hinges (No. 78-1515)
Nine Stanley 3-in. utility hinges (No. 75-2060)
Four Stanley 3-in. butt hinges with removable pins (No. 08-3031)
Ten 3/8×8-in. Stanley eye bolts (No. 13-0290)
Ten 5/16x2x5-in. Stanley square U-bolts (No. 13-4250)
Ten 3/8×7/16-in. tee-nuts
Twenty 5/16-in. wing nuts
Twenty ¼-20x20mm insert nuts
Twenty 1-in. washers
Twenty ¼-20×1-in. flathead machine screws
Seven Steps:
1. Hinge the Frame. Join two 8-foot 2x4s to form the platform's 16-foot-long sides. Fasten together the 2x4s, end to end, using a heavy-duty 6-inch strap hinge. Next, saw ten 12-foot 2x4s into twenty pieces, each 70½ inches long. Join pairs of the 2x4s with strap hinges to create 10 floor joists, each 11 feet 9 inches long.
2. Build the Legs. Cut ten 2x4s to 10 inches, and another ten to 13½ inches. Screw the shorter 2x4s to the longer ones to create the legs. Use a C-clamp to hold the leg to the platform's frame, then bore a 7/16-inch-diameter hole through both. Remove the clamp and hammer a tee nut into the hole on the back of the leg.
3. Set the Floorboards. The surface of the tent platform is made up of six 4- by 8-foot sheets of ACX ½-inch fir plywood. Join the sheets with 3-inch narrow utility hinges to create three folding panels. For a stronger connection, bolt the hinges in place with short machine screws, washers, and hex nuts. Apply marine varnish to the plywood.
4. Lay Out the Frame. Begin setting up the tent platform by first laying out its perimeter frame to form a 12- by 16-foot rectangle. Bring together each corner of the 2×4 frame, making sure the two hinge leaves fully interlock. Then, push the hinge pin down into place, locking together the two leaves and securing the frame's corner. Repeat for the other three corners.
5. Attach the Legs. The tent platform is held off the ground by 10 legs, each 13½ inches tall. Attach each leg with an eye bolt. Thread the bolts through the frame and into the tee-nuts on the backs of the legs. Hand-tighten each bolt. Use the eye-bolts to tie the tent down.
6. Install the U-Bolts. Each of the ten 11-foot 9-inch-long floor joists is supported at midspan by a single 2×4 leg. Attach the legs with square U-bolts and wing nuts. Tap each U-bolt through the holes with a hammer, then hand-tighten the wing nuts.
7. Secure the Floor. Bore an 11/32-inch hole 1 inch deep into the top of the 2×4 frame at each screw location. Use a 6mm Allen wrench to thread the insert nuts into the holes. Then bore ¼-inch screw-shank clearance holes into the plywood. Tighten the 20 screws.
Then a wooden tent platform is well done.
Tent Platform Ideas
Usually, tent platforms are generally made of wood, but there are also concrete tent platforms and metal tent platforms. But most of them are wooden platforms, because they are easy to assemble and disassemble, and they are light and easy to take away.
Your wooden platform will be exposed to extreme weather conditions that vary based on your location. Over time, sunlight, rain, snow, and humidity can erode the condition of the platform. Treated wood and fasteners are recommended to withstand changing weather conditions.
Cedar and mahogany are the two better wood choices for bell tent decks, followed by pressure-treated wood as the more economical choice.
If you can't afford to actually build the platform, or want a quick protective ground barrier, you can create a raised flat rock bed upon which to pitch your camping tent. We recommend using ground rock such as rotted granite or 1/4 de-gravel.