Glamping Domes
The glamping dome is a beautiful and durable glamping tent that offers modern and comfortable living. The glamping dome for sale has spacious space, the possibility to configure a bathroom inside, and plenty of room for additional furniture. You can turn it into a comfortable and private accommodation.
Contemporary and elegant, the luxury glamping dome blends seamlessly into the landscape. It can appear anywhere. Glamping hotels, campgrounds, seaside resorts, camping suites that can be used as living quarters, tiny homes, eco-tourism destination camping suites, fishing and hunting seasonal huts, and base camps.
Need glamping domes for your family holiday or glamping business? We have two style glamping domes for sale, PVC dome and glass igloo dome.
Fully Customizable Dome Designs: Available in different sizes, our domes come in six different sizes ranging from 5m diameter to 10m diameter. Of course, it can also be customized according to your needs.
Glass Glamping Dome
Dia.6m (20ft) | 28 sqm | For 2 persons
The glass glamping dome tent is a glamping tent covered by fully transparent glass, which can also be called "stargazing tent". You can enjoy a 360-degree panoramic view in the ultimate comfort, sleep on a comfortable full-size bed to enjoy nature, and look up at the stars at night. The glass igloo dome has excellent privacy, protecting the inside tent from peeping.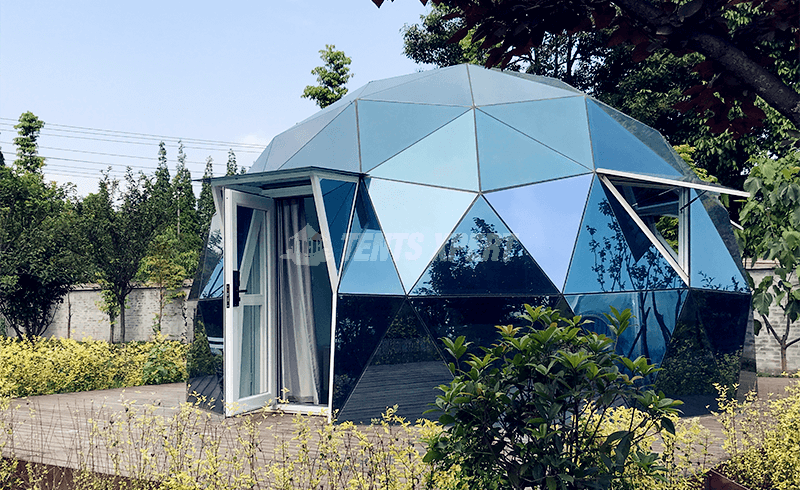 PVC Glamping Domes
Dia.6m (20ft) | 28 sqm | For 2 persons
PVC glamping domes are the most common and popular glamping tents. Elegant in appearance and solid in construction, it can handle almost any climate. The components of the PVC dome tent can be customized, whether it is the roof material and color, covering style, the material of the window, the opening direction of the door, and the door material, all can meet your needs.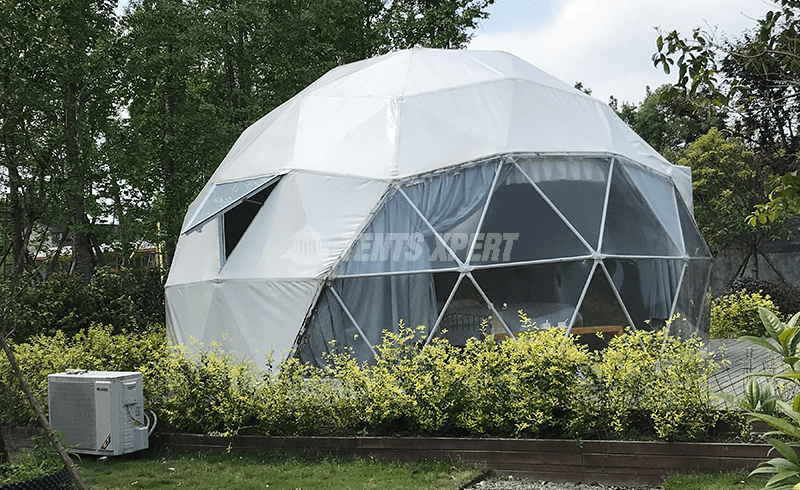 Using the best materials, we make glamping domes that are durable, wind resistant, waterproof, snow carrying, able to withstand extreme weather conditions, and can provide you with safe shelter in any climate when equipped properly you can live in year-round.
The glamping dome can be placed almost anywhere, build a wooden or concrete platform and keep them in place. Domes are also for those who need to live somewhere for the long term.
Our glamping domes are easy to transport, easy to assemble, and disassemble with little to no lifting equipment (for common sizes). You can bring the tent anywhere for your glamping life.