Glamping House
Looking for the perfect romantic glamping getaway? If you're curious about what glamping is like, living in a glamping house is the perfect excuse to give it a try.
Glamping houses, and some even tiny houses, offer freedom and a luxurious experience. House design, spaces and features of a home. Luxurious accommodation with a special allure, like an upscale hotel suite in the middle of nature. You'll feel like you're living in nature, yet enjoy the comforts of the interior.
The glamping house is visually appealing, designed for meditative retreats and communion with nature. The tiny glamping house offer modern interiors and spacious luxury living.
We make glamping houses in different styles, suitable for being by the riverside, by the lakeside, or in the forest. Various layouts and options are available.
Cocoon Tiny House
35 sqm | For 2-4 persons
Owning the glamping house is a fun thing, the cocoon tiny house is a very creative glamping tent, an ideal lifestyle hybrid design and might be the answer to your glamping demands. The special curved structure with the white exterior, cute and gorgeous, perfectly blends in with the natural landscape, making it an absolute adornment for glamping by the lake or the sea. The cocoon house tent for sale has enough living space for decorating furniture and can accommodate 2 persons. It`s weather-resistant and you can live in it permanently.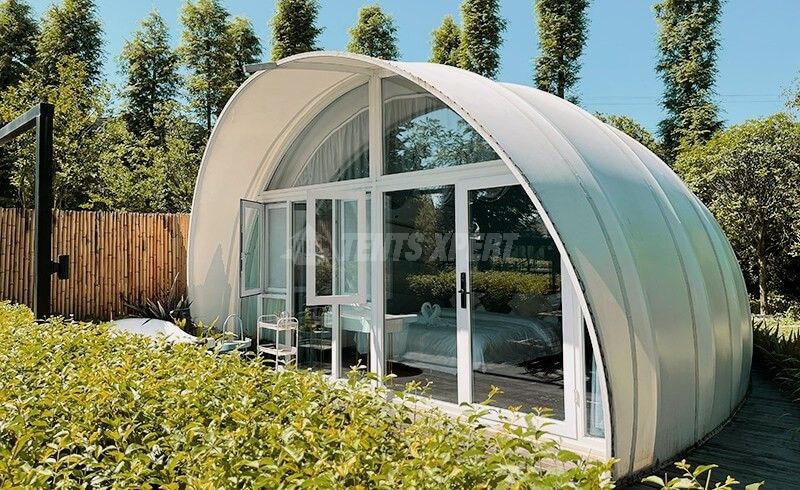 Shell-shaped Glamping House
56 sqm | For 2 persons
The shell-shaped glamping house is inspired by the shape of the snail shell. From a height, you can see that shell-shaped tents are like real conches lost on the beach. The shell-shaped house is a perfect tent to live in permanently on the beachfront or lakeside. It's a heavy-duty glamping structure, the large space of 56 square meters makes your living more flexible. It have a lifespan of up to 20 years.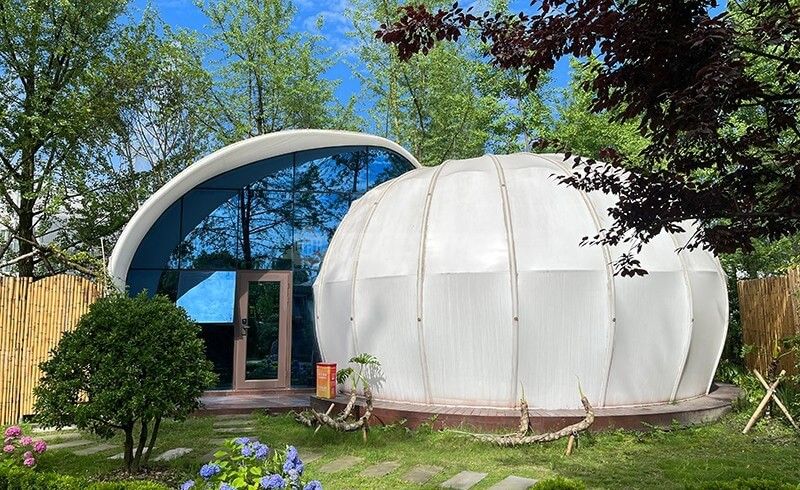 A-frame Glamping Cabin House
20 sqm | For 2-4 persons
The A-frame glamping cabin is like an equilateral triangle house with four walls beginning at the foundation and meeting at a pointed roof. A-frame glamping house for sale is 20 sqm for 2-4 people and is often found in mountain towns or more remote areas. A frame cabin for sale comes with the advantage of easily shedding snow from their roofs or standing up to strong, coastal winds.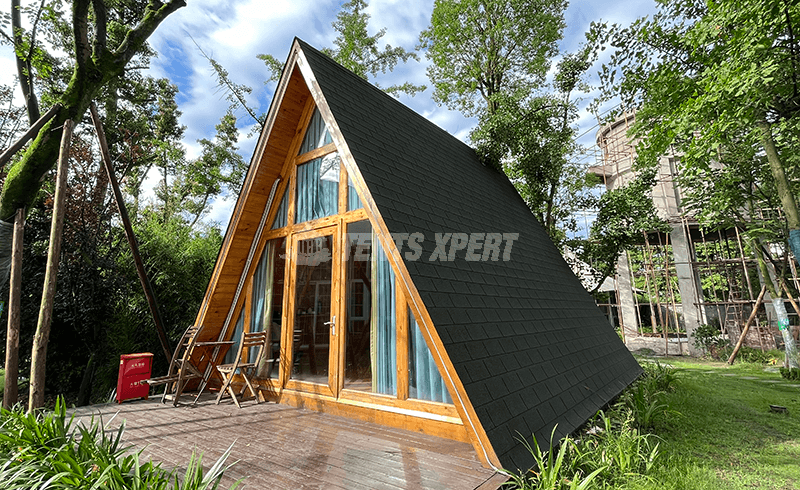 Glamping Safari House - RAHAT
35 sqm | For 2 persons
The glamping safari house is a heavy-duty semi-permanent tent modeled after the appearance of traditional African tents. The main body of the tent is built with galvanized steel pipe, and the side wall is a sandwich panel hard wall filled with cotton. The glamping house is easy to assemble and disassemble, easy to maintain and has a long lifespan.