Large Glamping Tent
ULTRA-LUXURY | EXPENSIVE | SPACIOUS | HEAVY-DUTY | NEED PLATFORM | LONG LIFESPAN
With a unique and luxurious look, the large glamping tents are designed to be stronger and more stable, and the materials are durable and long-lasting. We make big tents that are weatherproof and perfect for many climates.
We can make three different styles of large tents. One is the glass wall tent, one is the rigid panel wall tent, and another is the canvas wall tent.
Large Glass Wall Tent
80-120 sqm | For 2-6 persons | Customizable
The tent side wall is fully made of glass. glass door and glass window. The glass wall allows the tent to have better lighting, and at the same time has a wide view to see the scenery outside. The glass is tempered hollow glass, not easy to break, with heat insulation and sound insulation. The large glass wall glamping tent can be used as accommodation tent, restaurant tent, or reception tent. Also, we have made an extra-large glass wall tent.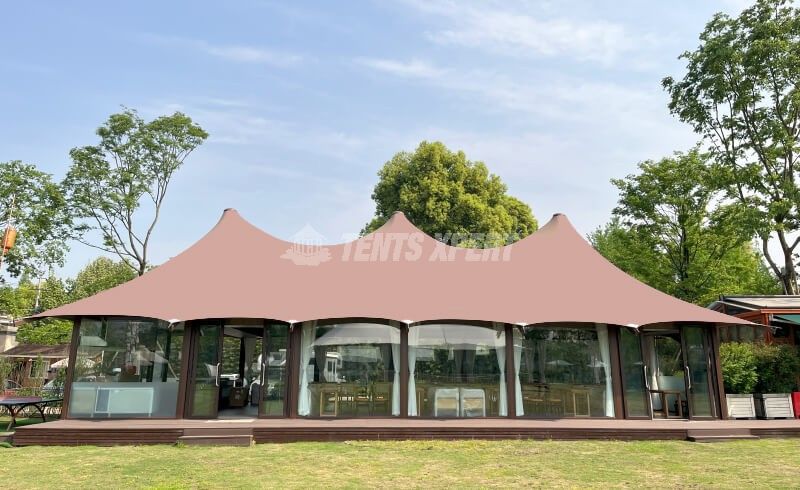 Large Canvas Wall Tent - KUKA
49 sqm | For 4 persons
The KUKA tent is gorgeous and large. The interior space of 49 sqm can accommodate 4 people, and can also put some furniture as you like. The tent side wall material is 2 cm thick tear-resistant canvas, which is waterproof, flame-retardant, and tear-resistant. The canvas wall tent is heat-insulating and keeps the tent warm in cold weather. The earth color tent can be used during all seasons.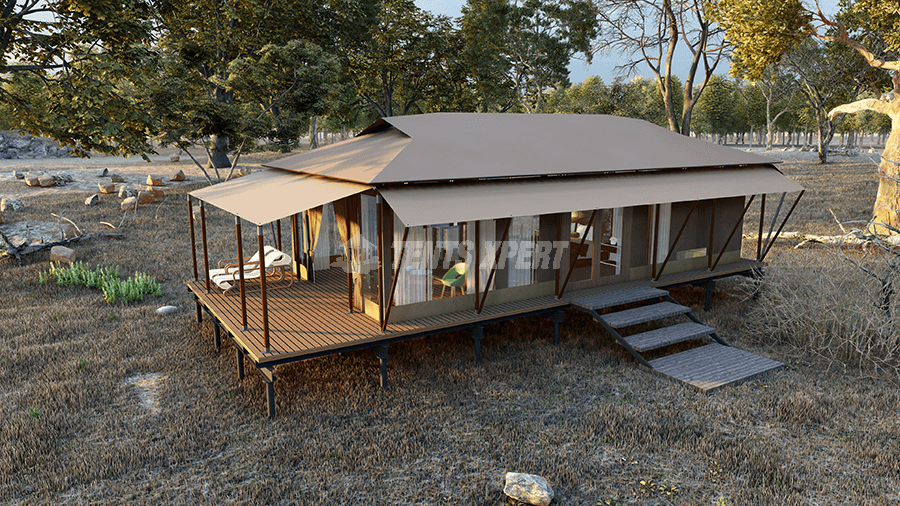 Rigid Panel Wall Tent - ACCMO
55 sqm | For 2 persons
The ACCMO tent is a well-designed tent, great looking. It is the best glamping tent chosen to connect with natural beauty and intimate spaces when in the wild. 55 sqm fits 2 persons, has luxury living spaces with bedroom, bathroom, and patios. The tent's side wall is made of sandwich panels wrapped in 70mm thick insulation cotton. The rigid panel wall has a better indoor thermal insulation effect. Provide you with a more comfortable living environment in cold regions.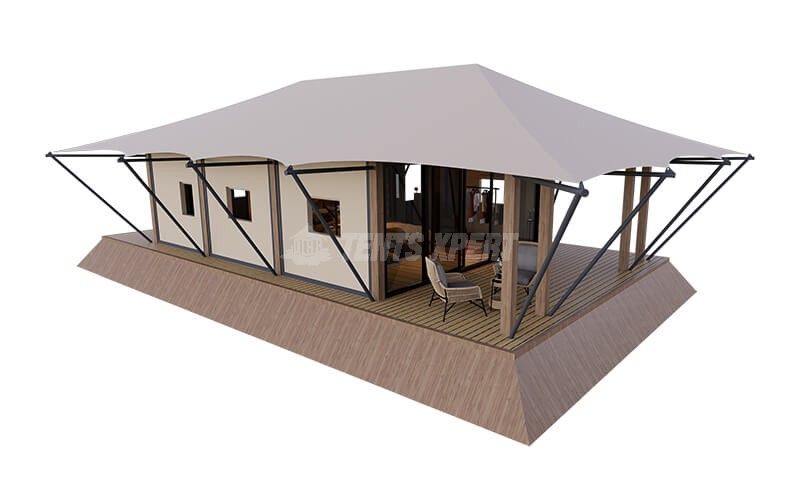 For resorts, retreats, and holiday parks, the luxurious and spacious tented structure is a unique and attractive landscape. The large glamping tent is the key to allowing customers to choose to stay. If you want to start a glamping business, try to consider it.
We make big glamping tents so that you can provide your guests with luxurious and comfortable accommodations. Spacious luxury tents have more space, which means more flexibility in interior layout. You can divide the kitchen, bathroom, bedroom, and even more functional areas to provide your guests with all the facilities of a hotel room, making them more comfortable and then allowing them to immerse themselves in the fun experience of glamping.
If you want to use the large glamping tent as your tent house, that is also possible. It`s also a perfect idea. The big tent is suitable for families. Large interior space and you can plan the most reasonable room layout according to the number of your family.