Glamping is becoming a better tourism market in recent years, and more and more investors are getting involved in this field. It has swept Europe and the United States and quickly became popular all over the world. According to Ariston's latest survey report, the glamping market in Europe and the United States will grow at a CAGR of 12% and 15% in the next five years, respectively. The glamping business in the United States is expected to reach approximately $1 billion in revenue.
Glamping has become the new "fashion darling" of the tourism industry. In the past, it was just a branch of traditional camping. Now it has become a dominant vacation option. Many people participate in it and start to go to glamping resorts this year. For individual proprietors and entrepreneurs, this demand represents an exciting opportunity. An excellent way to earn money by renting luxury tents or opening glamping campsites, hotels, and resorts.
If you want to know how to start a glamping business and the possible income, then you must first understand the industry and the lifestyle it provides. In this article, we provide you with the most comprehensive knowledge, which will help you develop your own glamping business.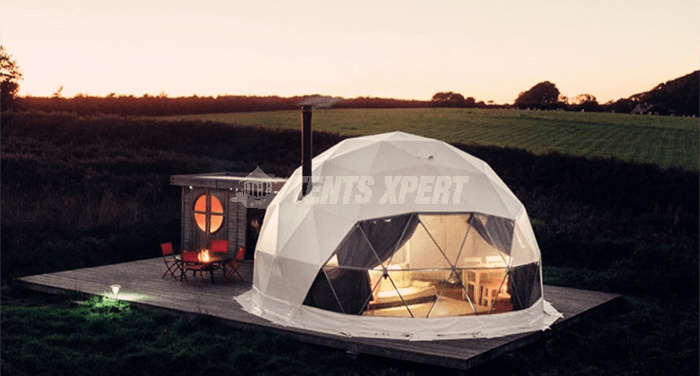 How does a glamping business make money?
A glamping business makes money by charging guests for use of a tent. Most glamping businesses have nightly and weekly rates, and they charge different rates for differently sized tents.
How much cost of starting your glamping business?
At least $3000 dollars.
The main cost of starting a glamping site is to buy glamping tents and land. The cost of buying land depends on the location of the glamping site. If you have your own venue, that's best. If not, please purchase those remote and scenic places, where the cost is relatively lower.
The cost of the glamping tent depends on the tent style of purchase you have. Cheap geodesic dome tents also cost at least about the US $ 1,000, and more luxurious tents cost tens of thousands of dollars.
If your capital budget is limited, so you have to strike a balance between buying land and tents.
In addition, property taxes, maintenance costs, labor costs, water and electricity costs, and some other consumption costs are all you have to consider.
How much money man I earn with a glamping business?
Becoming a glamping host will fill your emotional bank with joy and pride as you share your property with happy glampers. But your bank account also needs to be looked after as well. You'll need to do the math based on your unique situation to confirm that your forecasted income exceeds your ongoing expenses—anticipating a financial investment for your initial site build and asset purchases.
We'd recommend starting small for the first season, say one to three units, then growing from there. Let's do some back-of-the-envelope math on what your ROI could be based on average furnishing costs ($1,500) and amenities ($500) when using one of our tents ($1,600).
Average nightly rental rate $125 x 55 Total nights booked = $6,875 Gross Revenue
Investment: (~$3,600)
Year 1 Gross Income: $3,275
That is for year one. Year two earnings could be much higher per tent since you don't need to buy a new tent and furnishings, and your positive host reviews on the travel platform will hopefully help to secure even more bookings.
Optional Glamping Business Models
This is all about getting the business model and abode right in the research stage. This is as much about understanding your own lifestyle needs as a business owner and what will be loved by your customers. It is not always… go-big-or-go-home. Sometimes it's… stay-small-and-stay-sane. The key is to choose something that suits your location, budget and potential customers, but also that suits you. So when you begin wondering how to start a camping business and how much it might cost to set up, start by asking yourself what do you want to result from your venture in terms of work/life balance and lifestyle.
Like any other business, the glamping business can be divided into the franchise, corporate, and private ownership. In previous years, the glamping business was operated according to one or more of these models. But in recent years, some changes have occurred in the glamping business, and some new business models have emerged. Read our blog "What Are Glamping Business Models" to learn more.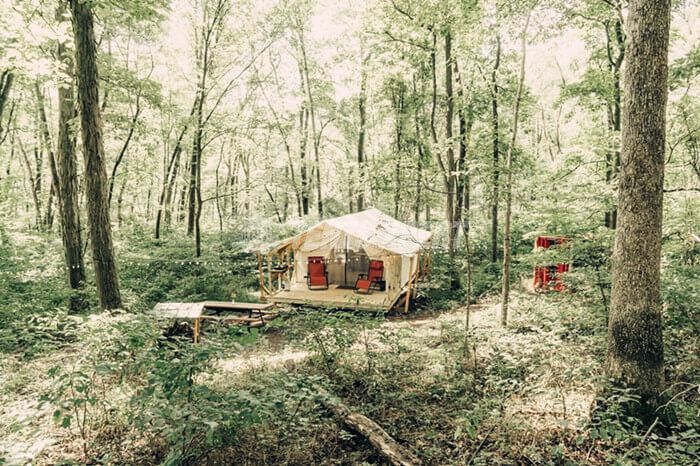 Apply for Land Permissions
Contact your local authority and apply for any planning permissions you might need in order to start. Permissions are sometimes required but when you consider using semi-permanent tents for your accommodations, the paperwork should be much lighter than in the case of permanent structures. Please remember, each country may review the site using a different set of criteria. These may include the type of accommodation, your location, road accessibility, traffic flow, topography, the economy size of site, impact on infrastructure, etc.
Apply for site license. It will depend on the number and type of units, spacing between the units, washing and sanitary facilities, drainage, water and waste systems, gas storage and fire safety, access roads and footpaths, electrical installations. You must have planning permission for the luxury campsite before you apply for a license.
Do Research to Choose The Best And Portable Glamping Tent
Compare sizes and styles to choose the best tent to bring your vision to life. Buy tents that perform well in your specific environment. As a business owner, you will want a product that is durable, easy to use, and repairable. Customers look for comfort, style, and features that make it easy to crack a window in the summer or light up a tent stove in the fall.
There are many different glamping tent manufacturers that do different types of luxury tents, and glamping tents come in several varieties, shapes, and sizes. What's more, there are a multitude of impressive features available.
So, to avoid making mistakes when it comes to choosing the best one here are things that you need to look for in a glamping tent. This should be an easy task, but do not underestimate the power that high-quality, well designed tent can have on the success of your business.
Plan The Infrastructure And Decorate The Glamping Tent.
Once your tent kits are on their way and your location is sorted, sketch out the services and facilities that you will offer. Plan and arrange field kitchen, toilets, bathrooms, onsite facilities (if any): reception area, laundry room, game room, hot tub, swimming pool, etc. Therefore, you must also have the relevant support accessories and facilities, like power supply system, when building the tents.
Now it's time to give your glamping tent some character, comfort, and charm by choosing the furnishings and decorations that you think will attract guests. Pick a design style that you'd like your furnishings to match (i.e. boho chic, country-western, rustic, elegant and modern, shabby chic, etc.) and go shopping!
Build Your Website And Promote Your Glamping Campsite
Promote your glamping residence to attract your target customers. Most of your marketing activities should focus on online. Establish a business website to enable customers to learn more about your campsite and the services you can provide.
Don't forget to use social media to promote your glamping business.
Join professional glamping directory sites who have experienced teams and huge traffic, to help you attract more customers.