When you want to build a glamping site, buying a glamping tent is your important thing. It can be a daunting task.
Glamping tents on the market come in numerous shapes, sizes, and varieties. There are also a host of special features to choose from. The glamping style tent you select not only influences how it looks and its overall aesthetic, but also how well it performs. So knowing what to look for is important.
Well-designed appearance, best quality materials, the large living space, consider people's living feeling, and all-weather resistance are the main consider.
Tent Appearance
Appearance is the most intuitive visual input. In terms of the appearance of the tent, lines, shapes, colors, and the integration of nature, these are the keys to whether a luxury tent can capture people's attention. Smooth curves, comfortable corners, special shapes, and light colors are all places where people's favor is easy to get. The appearance of one glamping tent like this is more beautiful and full of modern design. It not only attracts people's attention perfectly but also blends well into nature.
Glamping Tent Capacity
How many people do you expect to house in your new glamping tent?
Although most glamping tents are more spacious than traditional camping tents, make sure that you select a model that is large enough to accommodate all of your guests.
The larger the internal space of the tent, it means that more furniture and objects can be placed, more people can be accommodated, and more space for activities.
Smaller models comfortably fit two or three sleepers while larger models can sleep ten people or more. A 78 sqm tent can have two bedrooms and a bathroom, can accommodate 4 people, and even have a kitchen. Most glamping tents sleep somewhere between four and eight people.
Some people install a wood stove, camping kitchen, or even a makeshift bathroom facility in their glamping tent (although these are for more semi-permanent or basecamp installations). A larger tent is necessary if you demand extra living space.
Glamping Tent Materials
The frame of the glamping tent is made of steel, strong and durable, and performs well in strong winds and heavy snow. The load-bearing of the internal roof also requires heavy fittings. The covering fabric has multiple layers to ensure heat preservation and waterproofing, and they need to be made of flame retardant. In addition, the tent can also be equipped with a rainwater collection system.
The materials your tent is constructed from will influence its performance even more than you might think. Here are a few ways how:
Durability – The best glamping tents are often made with cotton canvas, heavy-duty poles, and thick guy lines to last for years on end.
Weatherproofing – Your luxury tent should be waterproof and windproof, especially if you plan to use it in late fall, winter, or early spring.
Breathability – Sometimes a downside of durability and weatherproofing is a lack of breathability. This is especially true with some tents made from synthetic fabrics. Despite its robustness, the canvas is a relatively breathable material.
Flame Protection – If you plan to use a wood stove or a camping heater inside your glamping tent, look for a model made with materials that are compatible with wood-burning stoves. Faxed canvas is one of the best options.
Packed Weight – Material directly relates to the overall packed weight of your glamping tent. If you need to pack it in, lightweight material is a must. If your campsite is near your car, then the weight isn't nearly as big of a concern.
Canvas is the go-to material for many luxury tents. It is extremely durable, incredibly weatherproof (with a rainfly), and breathes well. But it's also heavy and bulky. Synthetic material is probably a better (and often cheaper) option for that glamping in decent weather conditions (not winter).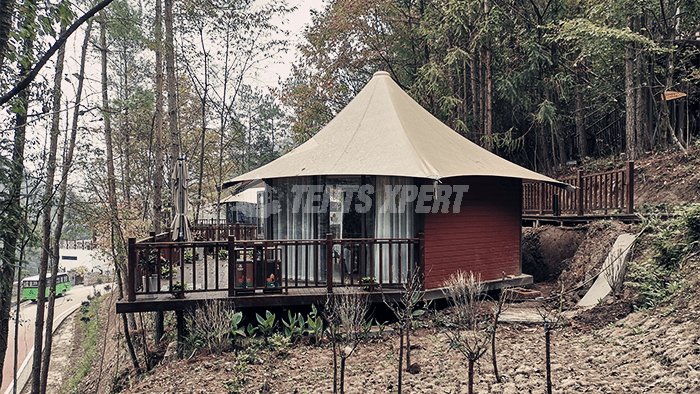 Glamping Tent Gears Checklist
Platform – Although a platform isn't strictly essential, it's become something of a staple for glampers everywhere. Most are constructed from wood or concrete. They simply act as a platform for the tent to sit on. Due to their permanent nature, they're best used if you plan to build a semi-permanent glamping location.
Food Storage – More permanent glamping shelters often have a somewhat traditional kitchen with cupboards or similar versions. For a more rustic, DIY-style shelter, a camping cooler for refrigerated foods is a must.
Kitchen – A well-thought-out camp kitchen makes cooking while glamping is easier. In addition to a camping stove, you might like to incorporate a table or counter (folding options are available), a camping sink, and, of course, cookware and plate ware.
Bathroom – If you're glamping somewhere without dedicated bathroom facilities, you might want to invest in a portable camping toilet. Or, at the very least, read up on how to go to the bathroom outdoors. To stay clean, a portable camping shower is a must-have.
Portable Power – What's more luxurious than a steady supply of electricity? The best portable power devices will help you stay charged while camping. A generator or power station is one option – but a portable solar panel works just as well.
Lighting – Illuminate your campsite with a lantern. The best camping lanterns provide bright, dispersed light all night long. Some are even compatible with our favorite solar panels and other portable power devices.
Stove or Heater – A heat source is a must for glamping in winter. For compatible canvas tents, a wood stove is an extremely warm option. If your glamping setup is more portable, then a winter tent heater might be right for you.
Decor – One of the best parts about buying a new glamping tent is decorating the inside! You have far more options than with a traditional tent. String lights, prayer flags, and colorful floor rugs are common.
Additional Glamping Tips
In all honesty, glamping is fairly simple and straightforward. But it can still be intimidating, especially on your first ever trip.
Here are a few of the top glamping tips to remember for a seamless experience:
Your Campsite – A level campsite with natural wind protection is a must. Make sure your tent isn't located underneath any widow makers.
Tent Setup – Setting a glamping tent up takes longer than a normal camping tent. The exact method varies depending on the model. However, it's important to set yours up on a level surface, ideally a wooden or concrete platform for the true glamping experience.
Your Gear – There are dozens of different ways to furnish a glamping tent. The rest of your gear is just as important as the tent. Some people like to set up their tent to mimic an entire living area with a kitchen area, living space, and a bed. Others prefer to pack in multiple sleeping bags, sleeping pads, and cots for a high-capacity sleeping space.
Cold Weather – Canvas tents work very well in cold weather, especially when paired with a wood-burning stove. Add in a wooden platform for an even drier and cozier experience. It's typically much warmer than sleeping in even the best winter camping tent.
Temporary vs Semi-Permanent – The most glamorous luxury tents are usually somewhat permanent. They're set on a platform and furnished with a real bed and other furniture. But that doesn't mean a portable glamping tent isn't an option. Our favorite tents reviewed above all work well to set up for a weekend of camping before packing them down again.