Glass Wall Tent
Our glass wall tent is as stylish as it is functional, like a house that you can use as your permanent residence, but also a novel option if you want to start a glamping business.
The glass wall house is not only a glamping accommodation, providing you with a comfortable living environment, but it also has a different living experience from other glamping tents. It has a wide panoramic view and better lighting, allowing you to appreciate the great outdoors in the house.
Glass wall houses come in a variety of sizes, from small economical tents to ultra-luxurious large and spacious tents. Regardless of size, there is plenty of interior space to accommodate living-friendly furniture to meet your living life.
Our glass wall tents are all made of high-strength aluminum alloy frames, which are very stable and durable, with a service life of up to 20 years. The glass sidewall uses tempered hollow glass, has high strength, is not easy to break, and also has heat & sound insulation.
Small Glass House - Glamping Lodge
24-44 sqm | For 2-4 persons | Customizable
The small glass wall tent is available in size, hexagon, octagon, or the side length of the tent, 3m, 4m, or longer, we can design and make it for you. It can accommodate 2 - 4 persons and the interior can be divided into the accommodation area, recreation area, and eating area according to needs.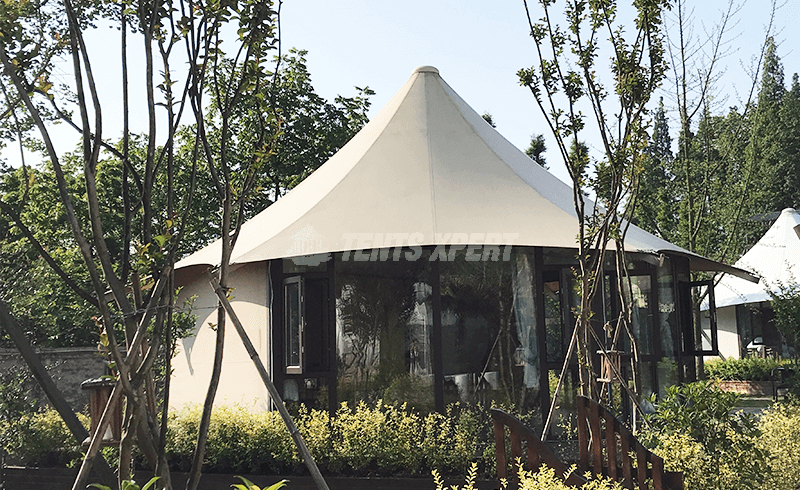 Glass Wall Tent - Tension Membrane Tent
36 sqm | For 2 persons
The glass wall tent living space is about 44 square meters with a total indoor living area of 36 square meters. The glass wall tent with a modern architecture popular tension membrane roof is a well-looking glamping tent. It showcases an ingenious and generous design combining an individual glass cabin with a stretch tent roof, providing double roofing for a comfortable living climate even in hot and hostile environments.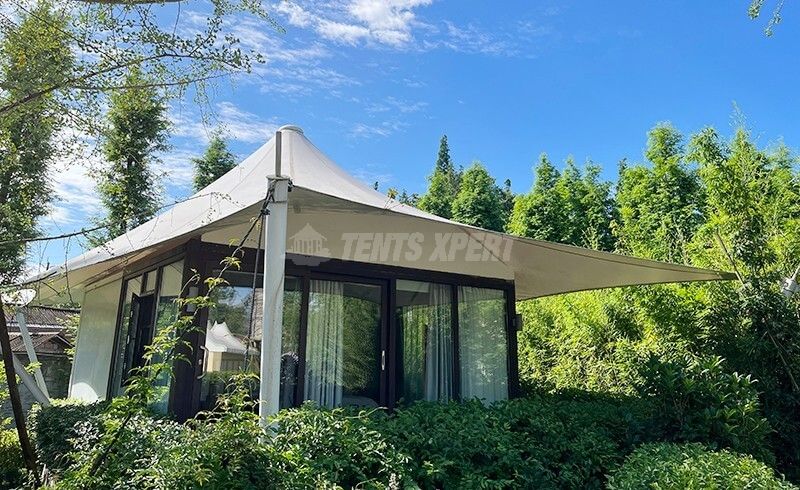 Large Glass Wall Tent
80-200 sqm | For 4-8 persons
The large glamping tent is the best tent to have the perfect glamping getaway! Whether you're thinking of glamping with the whole family or planning to open a glamping resort, it is the one you're looking for. The big glamping tents have more space inside, which can accommodate more people, giving them a homey, comfortable feel, and they can also be decorated as a reception room or banquet room in a resort.