The lodge tent is available in size, whether it is tent shape, hexagon, octagon, or the side length of the tent, 3m, 4m, or longer, we can design and make it for you. The more sides the longer the sides, more space can be used in the interior. The large space means that the interior can accommodate more furniture and the interior layout is more flexible. The interior can be divided into the accommodation area, recreation area, and eating area according to needs, which is great for those who want to be more free space and relaxation. Usually, hexagonal tents and octagonal tents with sides of 3m are the most popular. Other multi-sided lodge tents we can also customize for you.
Lodge Tents Dimension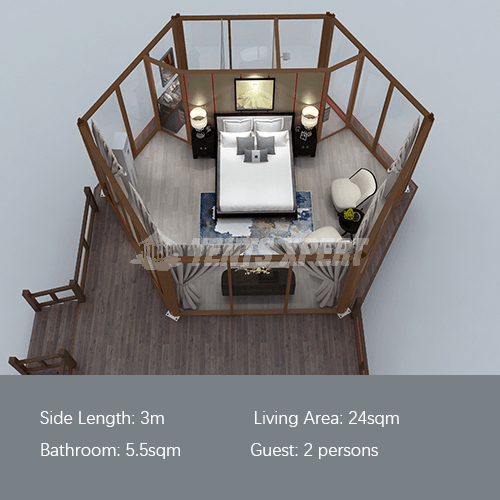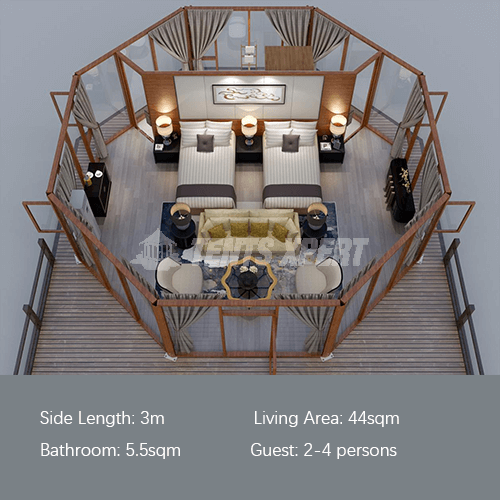 The luxury lodge tent is a heavy-duty tent. The frame assembled from galvanized steel is the strongest stability of the tent. Even in strong earthquake or storm weather, the tent can still stand firmly on the ground and will not collapse. The highest quality steel is durable and has a service life of up to 15 years, after which it can be recycled, environmentally friendly, and economical.
The roof of the lodge tent is designed with a peak shape, like a hill, which is beneficial to resist the impact of the wind, disperse the force of the wind, and prolong the service life of the tent. The roof is covered with PVDF, which is waterproof and sun-resistant, and easy to clean.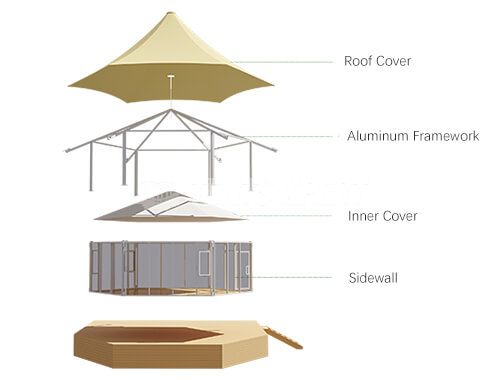 How Do Our Lodge Tents Protect Your Safety?
☆ Hard extruded aluminum for the tent structure framework, more than 20 years of service life.
☆ Can resist nine-level winds. And 35 KG/m2 snow load.
☆ Fire-resistant PVDF membrane, made with the German DIN 4102 B1, M2 standard.
The sidewall around the glamping lodge tent is designed with a fully transparent floor-to-ceiling glass. The glass is tempered hollow glass, high strength, not easy to break, and has heat insulation. The glass sidewall design can give you a panoramic view, that allows you to enjoy the outdoor natural scenery indoors. Imagine the feeling of happiness that shines on your face in the first rays of the morning, and your loved ones snuggle up on the sofa to watch the wonderful sun up. The experience of feeling the beauty of nature will make your life unforgettable. The pull-push hinge-fitted glass windows with screens allow both indoor and outdoor air circulation, allowing you to breathe fresh air while preventing the entry of flying insects and avoiding interruptions when sleeping.
Our Lodge Tent Can Make You Reside Comfortably
√ Waterproof. Enjoy the rain, you don't worry about it coming into the tent.

√ Anti-mosquito. Sleep at night without mosquito interference.

√ Anti-mildew. It does not cause mildew even in wet places.

√ Super self-cleaning. Focus on your business or outdoor holiday life, rain and wind will help you complete some of the tent cleaning work.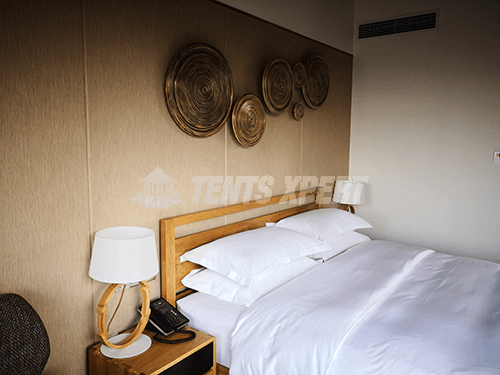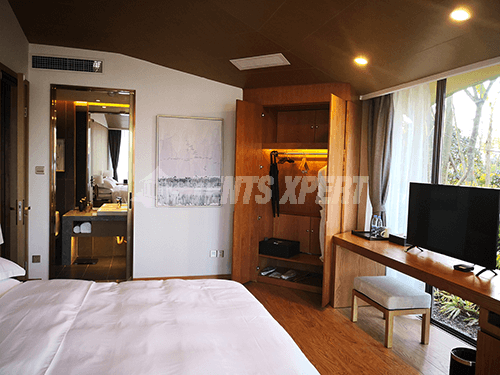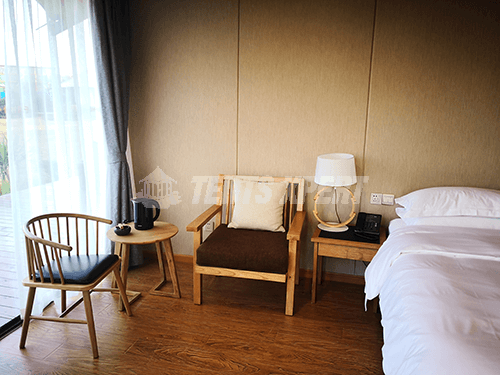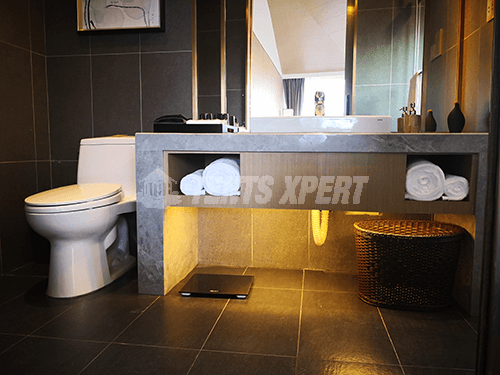 Lodge Tent materials and characteristics
PVDF roof: tear-resistant, waterproof, fire retardant, anti-mildew, color optional, easy to clean;
Tempered hollow glass: high strength, weather-resistant, impact-resistant, heat insulation, sound insulation, thermal insulation.
Galvanized steel, is not easy to rust, strong and not easy to break, long service life, recyclable.
Lodge Tent Built-up
The lodge tents are elaborate, semi-permanent housing units and require expert installation by our experienced rigging crew or a minimum of two professional technicians together with your local rigging crew. It`s the heavy-duty tent and a crane is needed when assembly. It takes an experienced rigging crew of 6 – 8 men between 2 and 10 days to assemble one unit. If you encounter any problems during the tent setup process, you can always consult us and we will help you solve them.
TIPS
Custom-made service. The tent size, sidewall optional, roof color optional, and other accessories.
Install on one wooden or other material-make platforms.
Tent maintenance. Easy to maintain, the PVDF roof and glass sidewalls can be cleaned with special cleaning detergent.
Extra upgrade options: Inner lining & curtain, flooring system (water floor heating/electric), air-conditioner, shower system, sewage system.
Generally, 45-60 days is tent-making time, ocean shipping time is 30-45 days.
Want Luxury Lodge Tents for Your Glamping?