The cocoon tent house is an ideal lifestyle hybrid design and might be the answer to your glamping demands. It isn't really a portable camping tent at all in the usual sense but a permanent tent house and it can be raised in a few days.
The tent house has a unique structure, the roof is high at the front and low at the back, from 3.4m to 0.5m, and wide at the front and narrow at the back, from 5.3m to 0.5m, which means that the inner space in the tent is special. Compared with other square tents, it is necessary to think carefully about the division of indoor areas in order to maximize space utilization and the most reasonable for living comfortably.
At TENTSXPERT`s Experience Base, we divided the interior of the 34 sqm tent into the bedroom in the front and the bathroom in the back. Each area has plenty of room for movement, the only downside is that you have to bend over to use the toilet, otherwise you will have close contact with the low roof.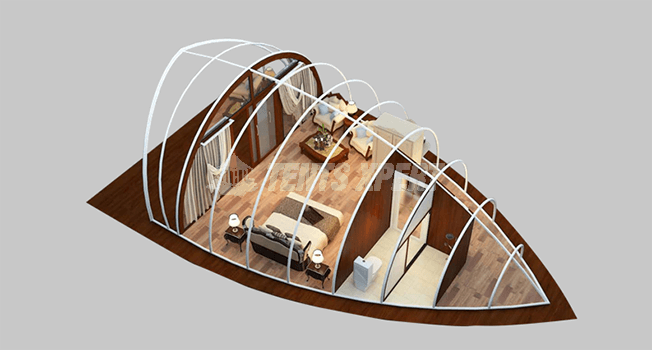 Cocoon Tent House
tents that you can live in
Total Area: 28-45 m2
Inner Area: 18-35 m2
Bed: one or two
Bathroom: yes / one
Guest: 2-4 man
The cocoon house tent is welded and spliced by high-strength aluminum alloy, the framework is simple and stable, and easy to build. The aluminum alloy has high hardness and is not easy to break. With a coating surface, waterproof and rust-proof, long service life, and can be recycled later. The tear-resistant PVDF roof tightly wraps the steel frame, protecting the tent from the wind and the sun. The curved structure of the tent house can effectively offset the blow of the wind and enables it to withstand severe weather such as strong winds.
The tent you can live in doesn't require a foundation. Designed to sit on raised decks, the glamping structure is meant to be both luxurious and low-impact, which is mildew, rot, and pest resistant. According to the test, it`s rated as able to withstand hurricane-force winds of up to 90 mph (144 km/h) and heavy snow loads. It can be engineered to stand up to some pretty rough weather.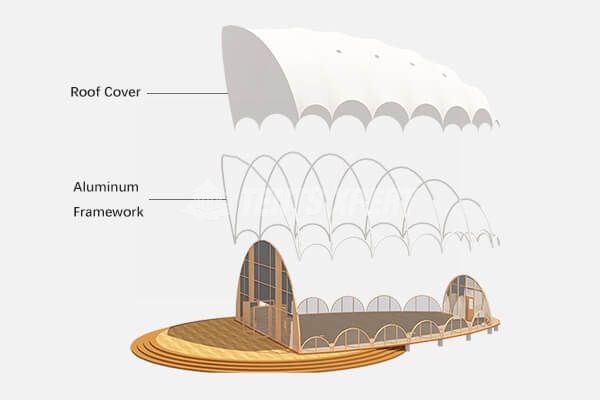 The exit of the tent house is a whole wall made of double-layer tempered insulating glass, with fitted hinged windows and push-out hinged doors. The glass window with mesh window for ventilation and mosquito repellent. Glass walls provide wider views and better interior lighting. There are mesh window design options on both sides of the tent roof for better air circulation inside and outside the tent. A double PVDF layer can better thermal insulation. An additional layer of insulation is available to those in, particularly warm or cold climes.
With solar panels, the cocoon house tent can run LED lights, pumps, water filters, and a composting system. Either solar water heater panels or a propane water heater makes showers a possibility, with a wastewater system filtering the H2O for a greener experience.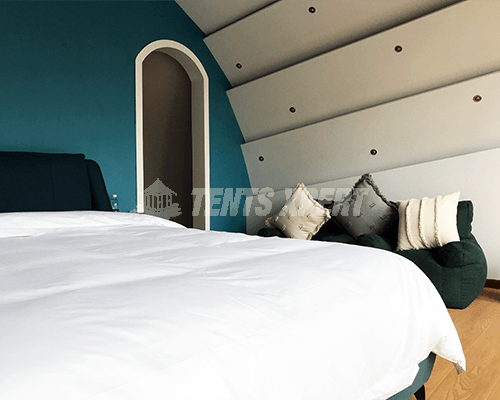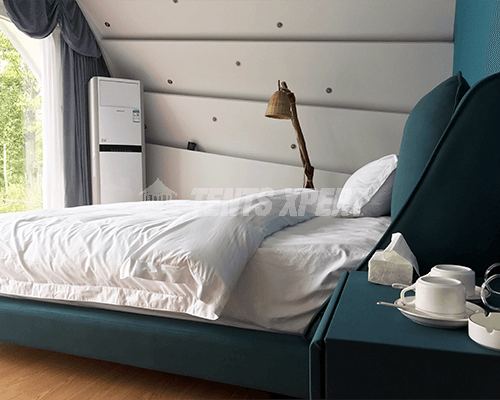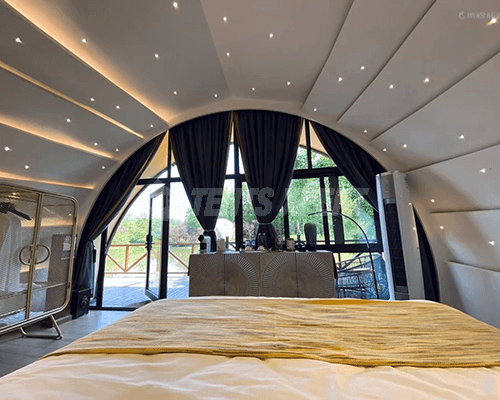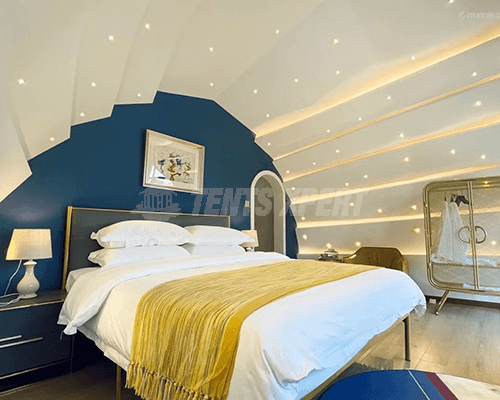 Tent House Materials and Characteristics
PVDF roof: tear-resistant, waterproof, fire retardant, anti-mildew, color optional, easy to clean;
Galvanized steel framework: not easy to rust, strong, and not easy to break;
Tempered hollow glass: high strength, weather-resistant, impact-resistant, heat insulation, sound insulation, thermal insulation.
Tent House Built-up
The tent house is easy to build up. We will send you a pre-recorded assembly video as an installation guide. Assembling the tent requires 4 to 6 experienced people to set up in 2-3 days. If you encounter any problems during the tent setup process, you can always consult us and we will help you solve them.
TIPS
Custom-made service. The house tent size, window and door optional, roof color optional, and other accessories.
Install on one wooden or other material-make platform.
Tent maintenance. Easy to maintain, the PVDF roof can be cleaned with special cleaning detergent.
Extra upgrade options: Inner lining & curtain, flooring system (water floor heating/electric), air-conditioner, shower system, sewage system.
Generally, 45-60 days is tent-making time, ocean shipping time is 30-45 days.
Build one cocoon house tent on the sunshine coast?