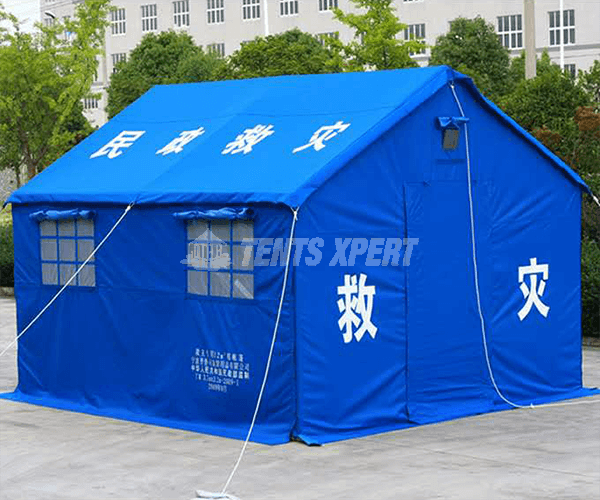 Disaster Relief Tent
Size (customized):
3m*4m
4m*4m / 4m*5m / 4m*6m / 4m*8m / 4m*10m
5m*6m / 5m*8m / 5m*10m
Material: PVC tarpaulin / Oxford fabric / Canvas
Color: army-green, dark blue, red, light-blue, and customized
Pole material: galvanized tube
Logo: custom logo printed
Features:
Waterproof, mildew-proof, and heat-insulated
Roller shutter window screen. It has the functions of ventilation, heat insulation, and anti-mosquito.
Cotton can be added into the tarpaulin. It can increase the warming effect of tents in cold weather.
Print on the tarpaulin. Patterns and logos can be clearly displayed and be identified.
Disaster relief tents are a relief material. Disaster relief tents can be used as temporary places for disaster relief command, post-disaster emergency treatments, storage and transfer of disaster relief materials, and disaster victims and rescue workers during emergencies such as natural disasters and virus transmission.
The portable emergency tent is easy to assemble and disassemble and can be built in a short time. Usually, 4 to 5 people can set up the disaster-relief tent in 20 minutes, which saves a lot of time for rescue work.
The disaster-relief tent for sale also has effects such as waterproofing, mildew resistance, and wind resistance, which can protect people from extreme weather such as rain and wind. The heat insulation ability can help people resist cold weather. Each tent has 4-6 curtain windows, which is convenient for ventilation or heat insulation in the room as needed. The windows are also with gauze, which can effectively prevent mosquitoes from entering.
Disaster-relief tents are the most common and most used emergency shelters in emergencies such as natural disasters and virus isolation, it can provide support to hospitals, government agencies, and the military. These temporary emergency tents can provide temporary shelter for people and disaster-relief materials. People can set up sleeping areas, medical areas, dining areas, and other areas as needed.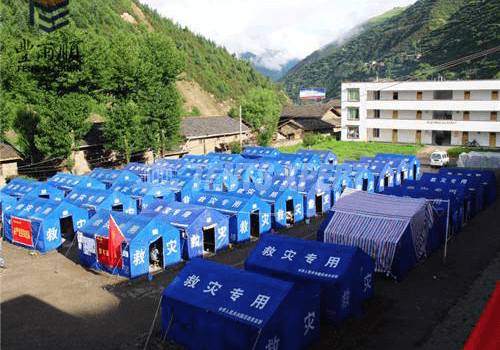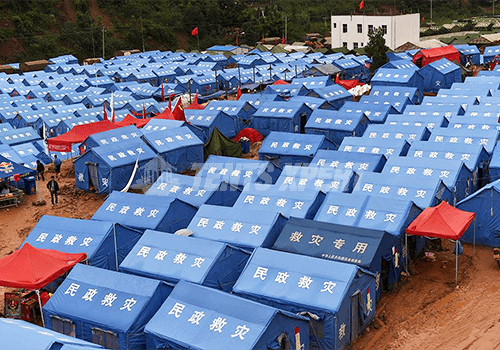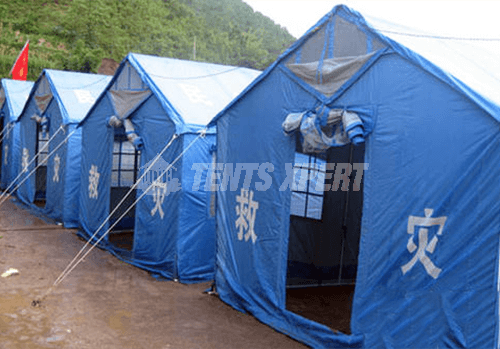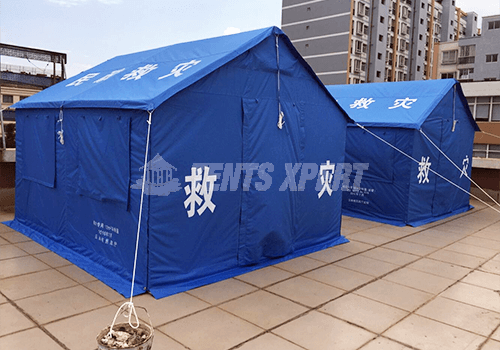 Construction notes:
The temporary disaster-relief tent should be set up in a flat place and will not collect water on rainy days. Before setting up, clear any sharp objects on the ground.
Put together tubes of the same length and shape before setting up, and understand what they are used for. (Usually, we will attach a construction manual to the customer.)
Suggested installation sequence: install the beam - install the inclined beam - cover the tarpaulin - install one side column -install the other side column - arrange the tarpaulin. After installation, check that there are no problems before use.
Note when using:
Do not use tent accessories for other purposes.
When using it in rainy, snowy or windy weather, it is necessary to timely check whether there has water or snow accumulation on the canopy, and loosening of the ropes or support columns, and other problem, it should be dealt with in time if found.
After use, store it in a dry place without sharp objects around it.
Get the disaster relief tent for an emergency.