The glamping wall tent for sale has a large indoor space. Thanks to its structural advantages, there is no supporting column in the tent, so in how to set the indoor furniture, you will not worry about how to eliminate the influence of the column and can arrange your indoor layout as you like. Because it is 4-side ventilation, it can not only be a place to stay but also define as a lounge.
The overall area of the glamping wall tent with a platform is 64 square meters, of which the indoor area is 49 square meters. There are balconies with a width of 1m on 4 sides of the tent, providing more outdoor recreation areas. The interior can be equipped with furniture or items that meet the needs of living and entertainment according to your glamping concept.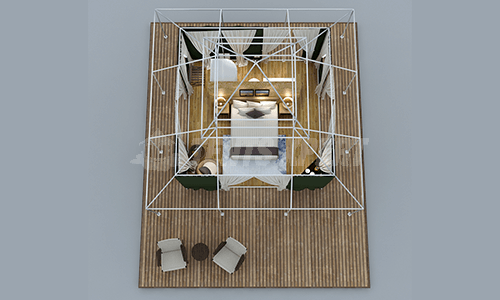 Glamping Wall Tent
Overall Area/Size: 64m2 / 8m * 8m
Inner Area/Size: 49m2 / 7m * 7m
Bedroom: One / 28m2
Bathroom: One / 10.5m2
Verandah: 16m2
The glamping wall tent is assembled from galvanized steel pipe and canvas. Galvanized steel with a coating is strong, rust-proof, and waterproof has a service life of up to 20 years, and can be recycled later. The tent frame constructed by it is stable and has good wind resistance, which is suitable for various outdoor environments. The canvas is tightly attached to the frame and the bottom of the canvas sidewall has at least 12cm extended double-layer canvas. The bottom-layer canvas is fixed on the wooden platform with wooden strips with a width of 3cm, which makes the tent more stable and can resist bad wind and rain.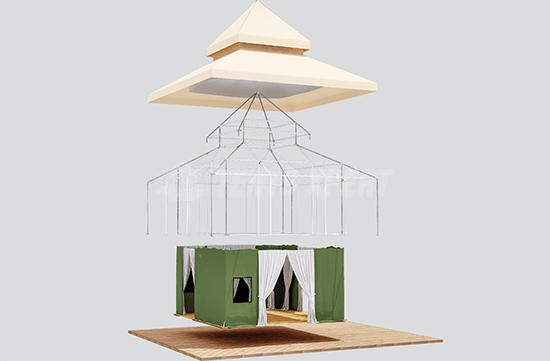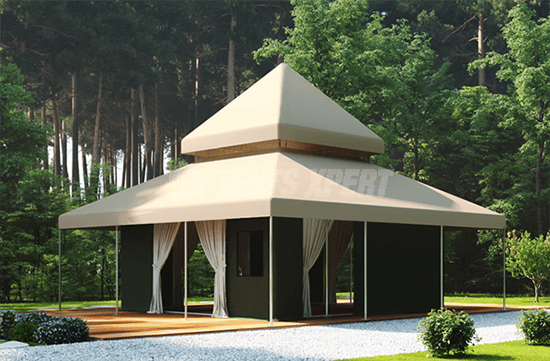 The tent roof is 2 layers, ripstop canvas outside and silk cotton inside. The canvas cover is both waterproof and able to withstand the most severe weather conditions to provide a safe and cozy inside. The silk cotton is heat insulation to keep inners warm in winter. The quality of the material of our Aman tents is guaranteed for at least 10 years.
On each sidewall of the tent is a canvas door with a gauze door. The gauze door is very useful in hot summer, and the four-way ventilation allows the cool wind to blow in and keeps the tent at a comfortable temperature. Moreover, the field of vision inside the tent is wide, and you can easily see the scenery outside the tent. The gauze door can be fixed with plastic buckles when up and closes with a zipper. The mesh hole is less than 1mm, even those tiny flying insects can block them out of the tent, and it will not disturb you who enjoy summer in the tent. In cold weather, pulling down the canvas door keeps the inside of the tent warmer and loses heat more slowly.
Our Glamping Wall Tent Can Make You Reside Comfortably
√ Waterproof. Enjoy the rain, you don't worry about it coming into the tent.

√ Anti-mosquito. Sleep at night without mosquito interference.

√ Anti-mildew. It does not cause mildew even in wet places.

√ Super self-cleaning. Focus on your business or outdoor holiday life, rain, and wind will help you complete some of the tent-cleaning work.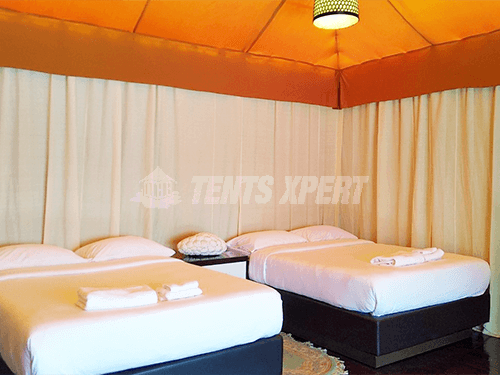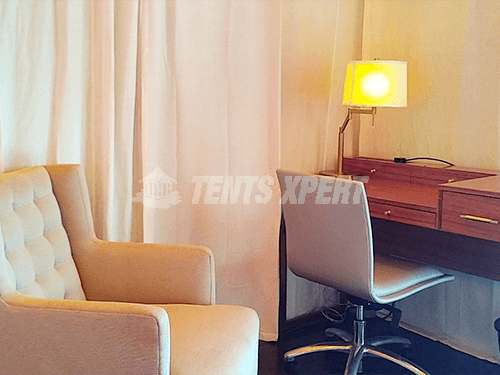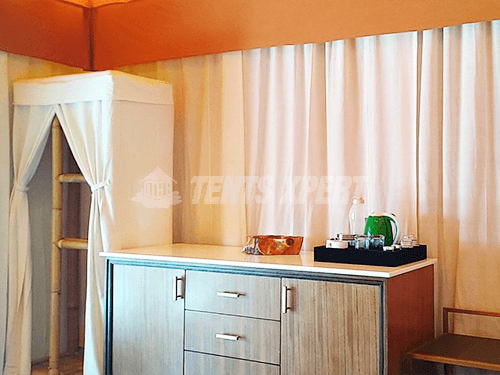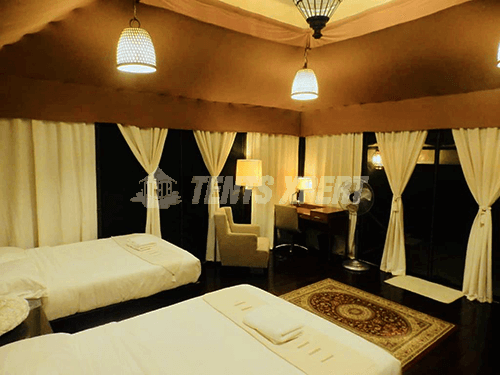 Glamping Wall Tent Materials and Characteristics
Canvas roof and sidewall, rip-stop canvas, waterproof, fire retardant, anti-mildew, color optional white, beige, khaki, green;
Galvanized steel pipe, not easy to rust, strong, and not easy to break;
Stainless steel bolt, dovetail nail, plastic cap, SBS zipper, tear-resistance mesh window, chill-proof clear PVC, 100% plastic buckle, nickel-plated brass buckle, 8mm anti-aging rope.
Glamping Wall Tent Built-up
You can build it yourself by following our recorded tent-building videos. Usually, before your tent is delivered to you, we will set up it at first out ourselves and also record videos that will also be sent to you as a guide. Assembling this tent requires 4 to 6 experienced people to set up in 1-2 days. If you encounter any problems during the tent setup process, you can always consult us and we will help you solve them.
TIPS
Custom-made service. The tent size, canvas color, and other accessories.
Install on one wooden or other material-make platform.
Tent maintenance. Easy to maintain, the canvas roof and exterior walls can be cleaned with special cleaning detergent.
Extra upgrade options: Inner lining & curtain, flooring system (water floor heating/electric), air-conditioner, shower system, sewage system.
Generally, 45-60 days is tent-making time, ocean shipping time is 30-45 days.
Enjoy Your Glamping Wall Tent Now