The heavy-duty glamping tent is suitable for 2 people. With an accommodation area, open-air washing area, and outdoor rest area. 25sqm (5m*5m) for a bedroom and 10sqm (2.5m*4m) for an outdoor bathroom. The interior space of the glamping tent is divided into a bedroom and a bathroom. The bedroom can place a double bed, bedside table, bed end stool, vertical air conditioner, writing desk, wardrobe, etc., which can be arranged according to your interior decoration ideas. The open-air bathroom and the bedroom are separated by wooden doors to separate wet and dry. The sidewall of the bedroom is equipped with PVC transparent windows and screen windows, which can easily see the outdoor scenery.
The overall frame structure of the heavy-duty glamping tent is simple and easy to set up without the help of a crane. 3 to 4 people can assemble it. The frame material is 42mm galvanized steel pipe, the hardness can reach 17HW, waterproof and rust-proof, strong and durable, and not easy to bend. The tightly combined steel tube provides the most stable frame for the tent, with excellent wind and shock resistance, and it is still firmly on the ground even in heavy rain and wind. Canvas with Velcro wraps the steel tube to keep the fabric from fluttering in high winds. At the bottom of the tent, the canvas is tightly bonded to the platform with Velcro to make the tent more stable.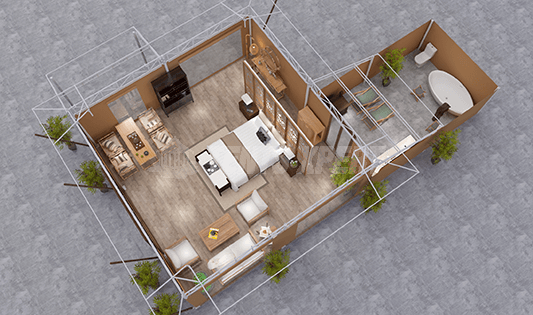 Heavy-duty Permanent Glamping Tent
Internal Size: 5m * 5m or 6m * 6m
Inner Area: 25 m2 or 36 m2
Bathroom Area: 8.8 m2
Interior Bed: 1-2 bed
Guest: 2-4 man
The special double roof design makes the PAKA more beautiful. The roof is 3 layers, made of waterproof tear-resistant canvas 500g, insulation layer, and waterproof canvas 500g. The insulation layer is knitted cotton waterproof, mildew-proof, and anti-tear. And the sidewalls of the tent are also made of this kind of PVC canvas with a thermal insulation layer, which is heat-insulating and keeps the tent warm in cold weather. There are extended rubberwood support poles on all sides of the tent, which is convenient to expand the sunshade net by yourself in the future.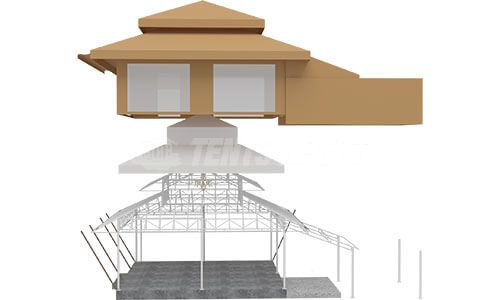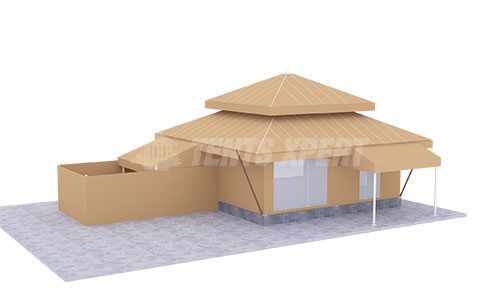 The sidewall of the tent is equipped with larger screen windows to provide the best ventilation and vision. The screen hole is less than 1mm, even those tiny flying insects can block them out of the tent. Each screen window comes with a 2mm thickness roller shutter canvas window of the same area. In cold weather, use canvas windows to keep the inside of the tent warmer and lose heat more slowly. The window opens with a plastic snap and closes with an SBS zipper.
The door of the tent is a floor-to-ceiling transparent glass stacking door, the glass is tempered hollow glass, impact-resistant, not breakable, and provides a bright field of vision.
Our Glamping Tent can make you reside comfortably
√ Waterproof. Enjoy the rain, you don't worry about it coming into the tent.
√ Anti-mosquito. Sleep at night without mosquito interference.
√ Anti-mildew. It does not cause mildew even in wet places.
√ Super self-cleaning. Focus on your business or outdoor holiday life, rain and wind will help you complete some of the tent cleaning work.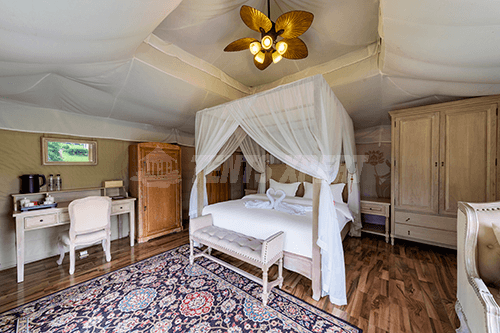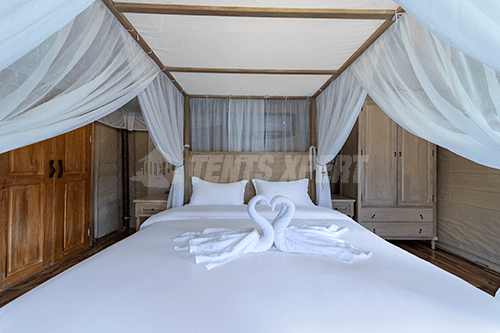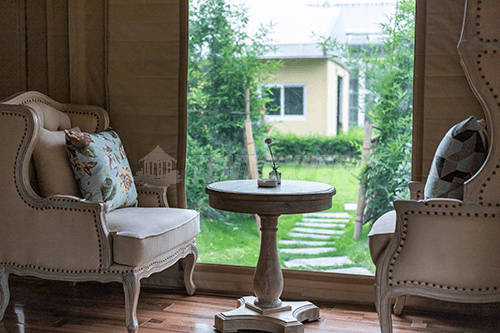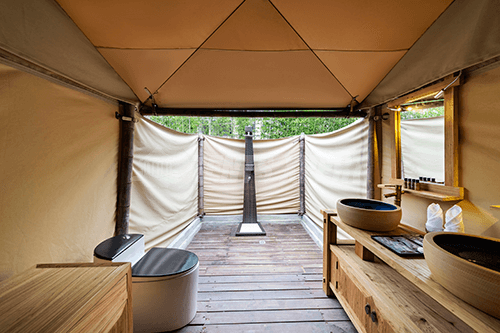 Tent materials and characteristics
Canvas roof and sidewall, 500gsm rip-stop canvas, waterproof, fire retardant, anti-mildew, color optional;
Galvanized steel pipe, not easy to rust, strong, and not easy to break;
Tempered hollow glass: high strength, weather-resistant, impact-resistant, heat insulation, sound insulation, thermal insulation.
Stainless steel bolt, dovetail nail, plastic cap, SBS zipper, tear-resistance mesh window, chill-proof clear PVC, 100% plastic buckle, nickel-plated brass buckle.
Tent Built-up
You can build it yourself by following our recorded tent-building videos. Usually, before your tent is delivered to you, we will set up it at first out ourselves and also record videos that will also be sent to you as a guide. Assembling this tent requires 4 to 6 experienced people to set up in 1-2 days. If you encounter any problems during the tent setup process, you can always consult us and we will help you solve them.
TIPS
Custom-made service. The tent size, canvas color, window and door optional, and other accessories.
Install on one wooden or other material-make platform.
Tent maintenance. Easy to maintain, the canvas roof and exterior walls can be cleaned with special cleaning detergent.
Extra upgrade options: Inner lining & curtain, flooring system (water floor heating/electric), air-conditioner, shower system, sewage system.
Generally, 45-60 days is tent-making time, ocean shipping time is 30-45 days.
Buy Heavy-duty Glamping Tents?