We Want You Know
We encourage you to share your glamping ideas sudden in the brain, beautiful tent pictures found somewhere, or specifications about the glamping tent with us, we discuss together with you to design the glamping tent you want, then we make it into reality.
Octagonal Luxury Lodge Tent Dimension
* 3m and 4m side length of the octagonal tent are the two specifications that customers buy often.
* We can also customize glamping lodge tents for you, such as 6m side length or longer side length.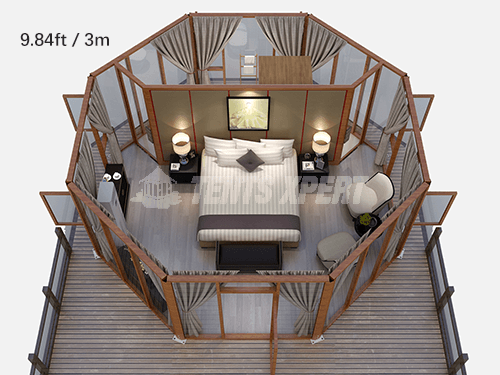 Side Length: 9.84 ft / 3 m
Platform: 28.87ft * 32.81ft / 8m * 10m
Living Aera: 473.61 ft2 / 44 m2
Bathroom: 56.3 ft2 / 5.23 m2
Guest: 2 man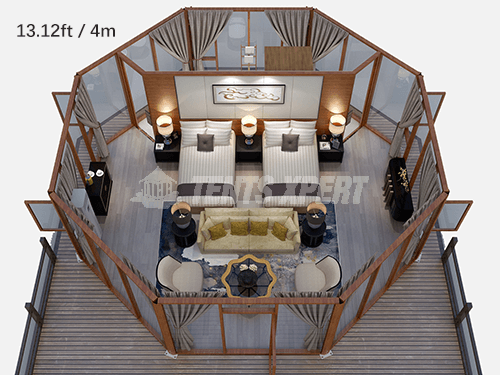 Side Length: 13.12 ft / 4 m
Platform: 37.73ft * 41.01 ft / 11.5m * 12.5m
Living Aera: 839.58 ft2 / 78 m2
Bathroom: 56.3 ft2 / 5.23 m2
Guest: 4 man
Inner Furniture **
upholstered beds, writing desks, wardrobes, hangers, coffee tables, chairs, simple sofas, bedside tables, bedside lamps, floor lamps, full-length mirrors, luggage racks, air conditioning
Bathroom Equipment and Accessories **
high-end closestool, dressing table with basin and vanity mirror, bathtub, separate shower with showerhead, shower curtain, clothesline
In the case of the same side length, the octagonal lodge tent has more indoor space than the hexagonal lodge tent. Its wide range of interior room is great for those who want to be more free space and relaxed. The large space means that the interior can accommodate more furniture and the interior layout is more flexible. The lodge tent interior can be divided into the accommodation area, recreation area and eating area according to needs.
Octagonal Lodge Tents Interior Layout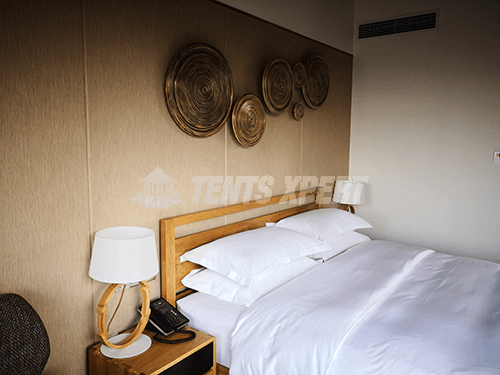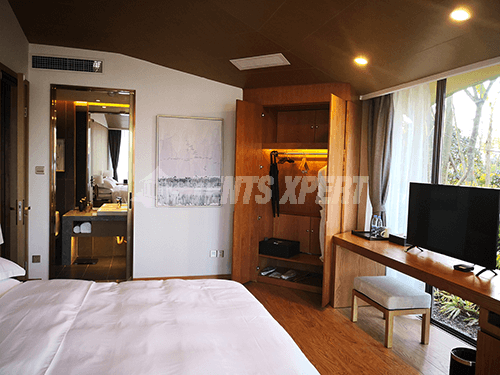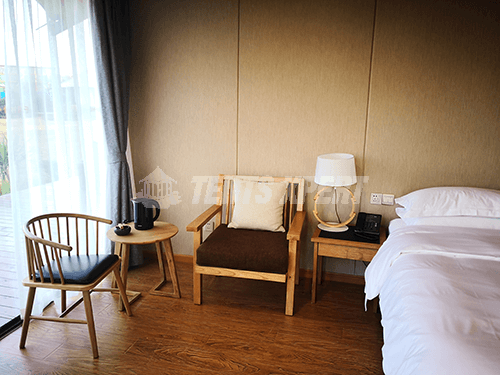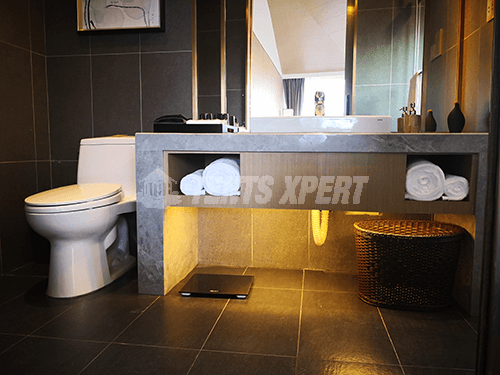 Style Options About The Octagonal Lodge Tent
Hexagonal luxury lodge tent is optional.
PVC roof cover is standard and tension membrane roof is the other roof cover you can choose.
Two colors of PVC available, white and khaki. Other colors can be customized.
Types of sidewalls optional. Tempered hollow glass, hard wall, sandwich panel, canvas for PVDF or PVC.


How Our Luxury Lodge Tent Protect Your Safety?
☆ Hard extruded aluminum for the tent structure framework, more than 20 years of service life.
☆ Can resist nine-level winds. And 35 KG/m2 snow load.
☆ Fire-resistant PVDF membrane, made with the German DIN 4102 B1, M2 standard.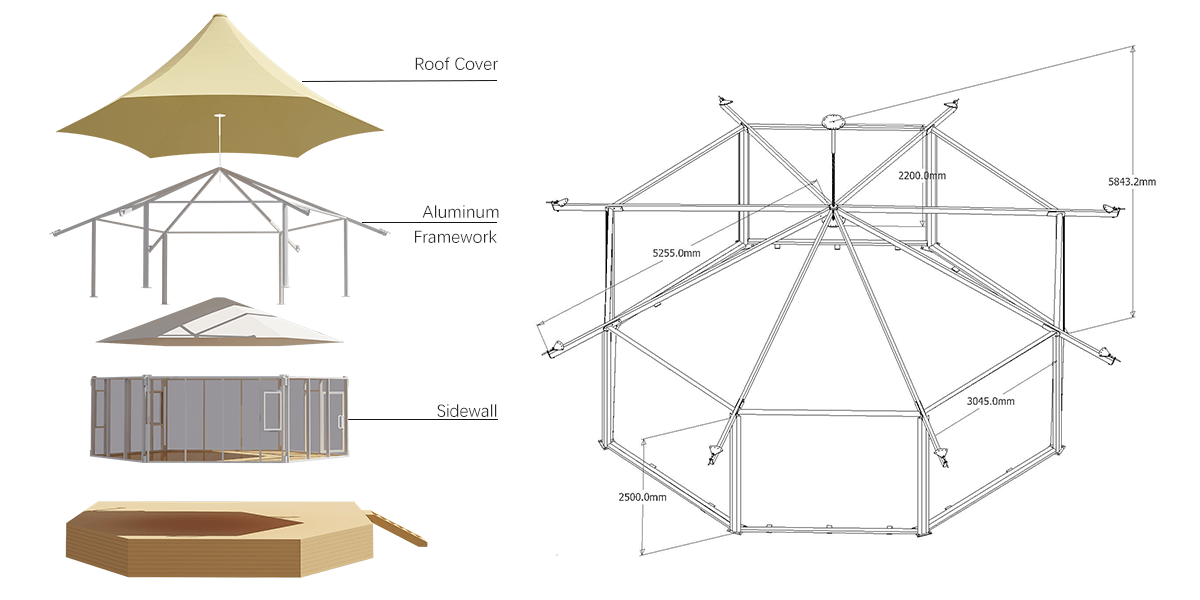 Our Octagonal Glamping Lodge Tent Can Make You Reside Comfortably
√ Waterproof. Enjoy the rain, you don't worry about it coming into the tent.

√ Anti-mosquito. Sleep at night without mosquito interference.

√ Anti-mildew. It does not cause mildew even in wet places.

√ Super self-cleaning. Focus on your business or outdoor holiday life, rain and wind will help you complete some of the tent cleaning work.
TIPS
The luxury lodge tent needs to be installed on one wooden or other material-make platform. (Why does the luxury tent need a platform?)
Extra upgrade options: Inner lining & curtain, flooring system (water floor heating/electric), air-conditioner, shower system, sewage system.
45-60 days is tent-making time.
Generally, ocean shipping time is 30-45 days.
Get Octagonal Lodge Tents for Glamping Resorts?