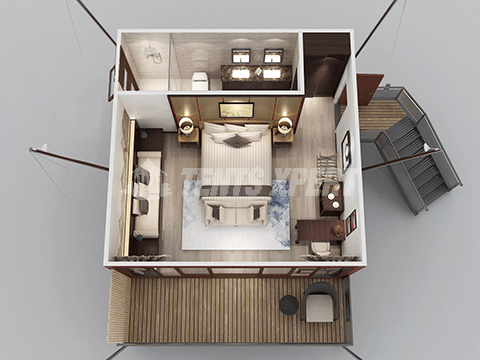 Permanent Glamping Tent Size
Tension Membrane Roof
Total Surface: 468.23 ft2 / 43.5 m2
Inner Area: 387.5 ft2 / 36 m2
Bathroom Area: 79.22 ft2 / 7.36 m2
Balcony Area: 67.49 ft2 / 6.27 m2
Guest: 2 man
Know Tension Membrane Characteristics
★ Seismic Resistance. The tensile structure itself is very light and the solid structure system has strong seismic and horizontal load capacity.
★ Wind Resistance. Self-weight is only one-fifth of the brick-concrete structure and can withstand hurricanes of 70m per second.
★ Sound Insulation. The wall made up of light steel keel and thermal insulation gypsum board, with sound insulation of up to 60 decibels.
★ Environmental Protection. Housing steel structure materials can be 100% recycled, other supporting materials can also be mostly recycled.
★ Energy-saving. Heat preservation and good heat insulation effect. It can reach 50% energy-saving standard.
★ Self-cleaning. The dust and chemical particles in the atmosphere are extremely difficult to adhere and penetrate. Roof cleans by rainwater.
★ Stability. During use, the mechanical properties of the material can be kept constant under snow or wind loads.
★ Long service life and up to 25 years.
TIPS
The permanent glamping tent needs to be installed on one wooden or other material-make platform. (Why does the glamping tent need a platform?)
Extra upgrade options: Inner lining & curtain, flooring system (water floor heating/electric), air-conditioner, shower system, sewage system.
45-60 days is tent-making time.
Generally, ocean shipping time is 30-45 days.